EUR/USD, GBP/USD Daily Analysis Sept. 13th 2013
Yesterday I was half expecting the extended push that never came. I did take an aggressive long at the trapping pattern before the live London session started and ended up closing it for a 10 pip loss. Since it did not do as I expected and it was an entry much more aggressive than I usually take I wasn't going to take the full hit and I did give it plenty of time to move off for me. Eventually it did run down and would have took my full 20 pip stop out.
What we have today is no clear direction with the lackluster push down and then the push back up eventually finishing the day in the middle of the range. Its also Friday so we have to consider end of week flows which adds a little more probability to the pullback to test yesterdays lows and potentially show us a long term push down to start next week with. Its not a great topping formation but its there so my preferred trade will be a stop run to the highs for the short but I will still be open for a long if they run it down during London today. The 1.3276 level has a decent chance of seeing them stop and turn there but the trap will need to be very clear and get a good entry since the best level for the long is lower at 1.3254 where yesterdays lows sit just above both the 4hr and 1hr 200 EMAs.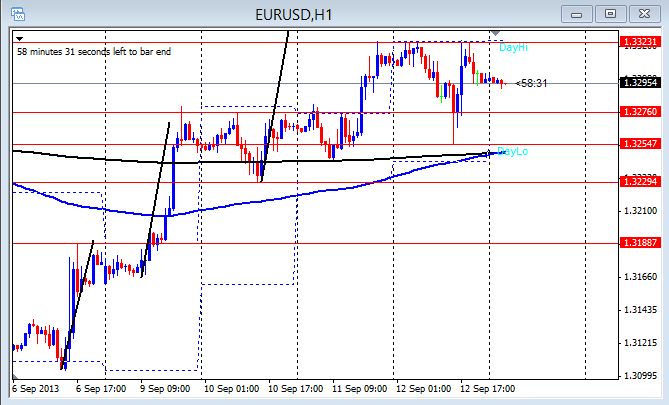 The GBP/USD is showing us price action of the big boys flushing weak holders again. Considering the end of the week and the final flush was shorts with a stop run to the highs the higher probability is for the short but I will be keeping an open mind on direction. With yesterdays range being only 60+ pips there is the chance for the stop run to yesterdays lows but I will be watching that hourly conviction below yesterdays lows. If that happens it will add to the probability for the short and I will look for the pullback to take it from. What I would prefer to see is the stop run to the highs but with this drop during Asia we may not get it.
To Learn More About The Secrets of The Mega Banks Check out What is Included in Our Lifetime Membership Here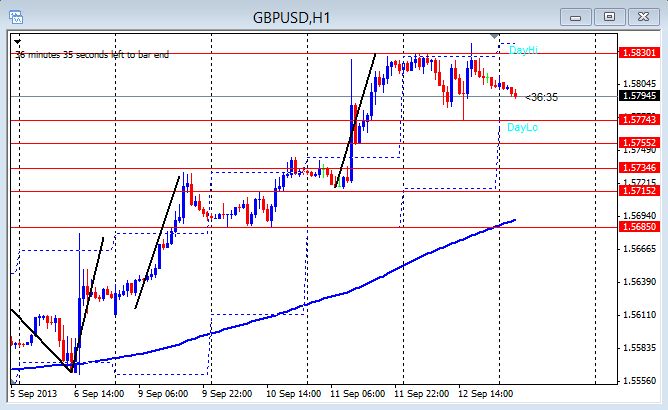 Forex News Today
The calendar is literally bare today for the London session so we will most likely see the Friday flows baring any tape bombs. The US does have PPI data and Retails Sales figures. Expectations are for not much of a change on either so I don't expect much unless they miss big. The one that will have the most impact with a big miss will be Retail Sales. If it drops substantially then taper thoughts will diminish and the USD weaken. The opposite for a large miss to the upside.
Have a great weekend
Chad
If you have questions about joining Day Trading Forex Live and becoming an active member please feel free to contact Robin Haywood. He is a current member and has volunteered to answer any questions to give you an idea of what the service involves and support we provide.
You can email him at robindtfl@gmail.com to set up a time for a conversation over the phone if you like or call his US phone line at 702-560-8552 or Skype at RobinHaywood
Do You Enjoy The Daily Forex Commentary? Please Click The Like Buttons, Tweet It, and Google + It Below !!
There was an issue loading your timed LeadBox™. Please check plugin settings.
There was an issue loading your exit LeadBox™. Please check plugin settings.