Analysis of EUR/USD, GBP/USD July 17, 2013
The EUR/USD has made the first push up today. Also having a nice daily close above 1.3146. This tells me they are thinking Ben will reiterate his "we will keep up the print fest" later today. Either that or they more than likely have gotten the copy of his opening speech ahead of the rest of us which is seemingly the usual practice these days.
What is a little concerning is that the US equities did not go with the Euro. Showing the potential for thoughts of Europe being the cleaner dirty shirt. I must be kidding right? Yes I am. This is more likely due to the big boys booking profit and closing positions in stocks just in case Ben disappoints or a squeeze of the longs to clear out the market since everybody and their brother can only find yield in stocks. Therefore pushing some of them out needed to happen. As usual if I am going to error it will be on the side of the manipulation.
Today I will be bias for the long but I don't expect much movement ahead of Bens speech. The best level I see is the psych 1.3100 where we see proven support. A good stop run below that level will get me long but if it happens during Bens testimony I will wait and try to catch it after the market slows down a bit. Otherwise it does have a decent chance of stopping at the 1.3120 level but that is not as significant of a level so the set up will need to be clear.
On a side note my Euro short yesterday did come back and hit me break even. For those of you who take the profit at twice the risk should have got the 40 pips. Good job to those who did. I followed my plan so all is good but it would have been nice to see it push to the 60 I had my TP set at.
To Learn More About The Secrets of The Mega Banks Check out What is Included in Our Day Trading Course Here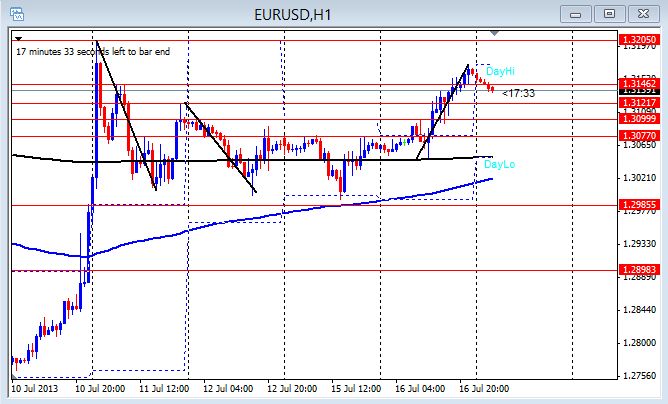 The GBP/USD has had the same push upward along with the nice close on the daily chart. I am wondering why it has already pushed 45 pips down this morning but it could easily be because the re is also some big news from the UK with their Unemployment data and more important MPC Meeting Minutes of which the big boys also probably have a copy of already.
The 1.5110 level will be valid during the London session but only if it holds here and makes a push back up in the range during Asia this morning. Otherwise this could easily test the lows yesterday of 1.5046. There is also the possibility the hourly 200 EMA hold but since it hasn't been getting much respect the last couple days its questionable. The only way I will be looking to short is a test of yesterdays highs with a clear set up since there are no better levels that has potential to change a small bias for the push up today.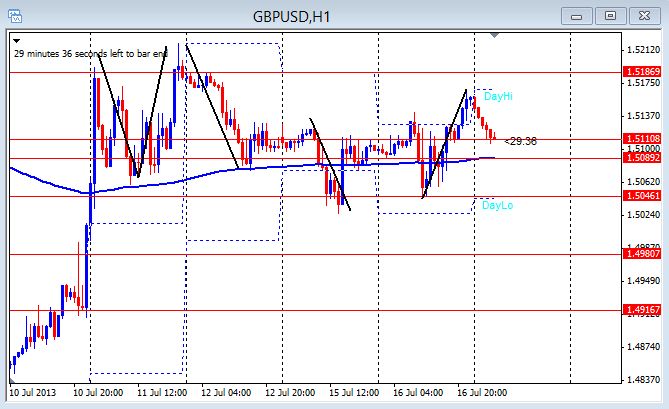 Forex News Today
Scheduled releases start off with the UK news mentioned earlier with the MPC Minutes being the one to watch. I will be curious to see how much increasing the Asset Purchases was discussed if at all. It should be interesting to say the least.
There is a German 10yr bund auction today also but I doubt there will be much reaction with Germany being the best economically in the EZ so this should be a non event.
The US has some housing data but barring a big miss on them they will be waiting for Ben and what he has to say a couple hours later.
Happy Trading
Chad
If you have questions about joining Day Trading Forex Live and becoming an active member please feel free to contact Robin Haywood. He is a current member and has volunteered to answer any questions to give you an idea of what the service involves and support we provide.
You can email him at robindtfl@gmail.com to set up a time for a conversation over the phone if you like or call his US phone line at 702-560-8552 or Skype at RobinHaywood
Do You Enjoy The Daily Forex Commentary? Please Click The Like Buttons, Tweet It, and Google + It Below !!