April Fools EUR/USD, GBP/USD Analysis 2013
Happy April fools day one and all. What a fitting day to open up my news wires this morning only to find out that I was spot on when I said I knew there would be some of those rich folks getting their money out of Cyprus banks while the doors were closed for every body else. I have to admit I was off a little because I figured we would be hearing that the Russians would be the main culprits. Wrongo ringo!
Come to find out it was the Cyprus president whos family funneled millions out in the week prior to the bail out being announced. Of course these guys who have been named all have a good excuse and for all I know they may be valid so we cant reasonably point fingers just yet but if we get the same sort of investigation as we got with the LIBOR scandal or JP Morgan pilfering MF Global just before clients lost all their money. These guys will surely be absolved and everything will go back to normal. Well not so fast. Lets just say for argument sake that they are innocent. Of which I highly doubt. But lets just say. Will it really matter to the people who panic and start the bank runs across Europe as they realize that the elite can get their money while the regular guy on the street cant? Would you trust any bank run by the boneheads at large? In the words of Nigel Farage "get your money out while you can."
I was just telling this same thing to a friend of mine this weekend referencing a movie called Margin Call. In it the guy in charge of the bank that starts the financial melt down says. "There are 3 ways to be successful in this business. Be smarter, be a cheat, or simply be first." He then goes on to say. 'Well I am not the smartest and I refuse to be a cheat so the choice left is to be FIRST.' So there you have it. If you wont be among the first you do stand the chance of being last and ending up with nothing. I have a feeling that most in the middle could end up coming in closer to last with the way our fractional reserve banking has been operating. Make sure ya check out the video from Grant Williams at the bottom of the post to get a good idea of what I mean. You may have to watch it a couple times to get the whole meaning but is well worth it.
On to the charts.
I will be treating the EUR/USD as being in a third push chop today. Fundamentally I am bias for the short due to recent events but I will surely be waiting for the manipulation to enter. If we do see the Asian session keep up this push down I will consider a short at the lows Friday as long as the Asian range is 35+ pips. The higher the better. Otherwise if this holds I will be looking for the short around the highs at 1.2844. The gap down has pretty much closed so Im not too concerned about it.  I will be open for a long at the lows with the right set up but it will need to be nice and clean.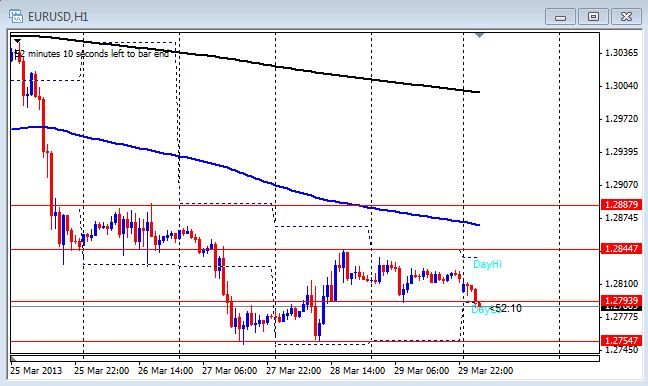 To Learn More About The Secrets of The Mega Banks  Check out Whats Included in Our Day Trading Course Here…
The GBP/USD does have a chance to make the push up today. As long as this range can hold at Fridays lows the probability is we will see it. It will depend on the movement on the EUR/GBP if the Euro is going down but it does seem to be holding nicely for now. If we can get the stop run to the Asian lows during London I will be willing to take this long. However if it has the hourly close below 1.5177 then I will change my bias to short and look for the manipulation to the upside with some confluence. Most likely the 15 minute 200 EMA but we will have to wait and see.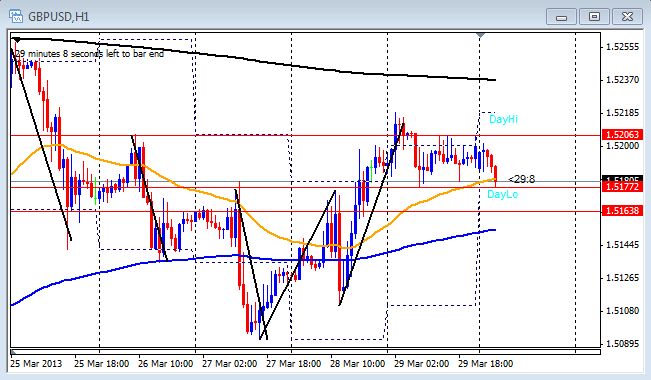 Forex News Today
The calendar is rather light until we get to the US session today and have the ISM Manufacturing Index. expected to remain flat at 54.2 I doubt there will be a surprise to the upside. A large miss to the downside should create some USD weakness but with all the stuff flowing from Europe I have my doubts it will be something sustainable.
Here is the Grant Willaims video. If this dont make you want to hide some gold in your mattress then nothing will 😉
Check Out These Other Day Trading Training Articles & Educational Videos
Happy Trading
Chad
If you have questions about joining Day Trading Forex Live and becoming an active member please feel free to contact Robin Haywood. He is a current member and has volunteered to answer any questions to give you an idea of what the service involves and support we provide.
You can email him at robindtfl@gmail.com to set up a time for a conversation over the phone if you like or call his US phone line at 702-560-8552 or Skype at RobinHaywood
Do You Enjoy The Daily Forex Commentary? Please Click The Like Buttons, Tweet It, and Google + It Below !!