Ascending Trendline Support Break – USD/CHF Day Trade 17/05/2011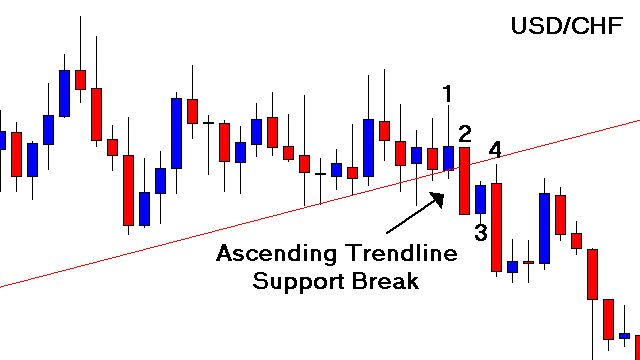 Yet another day trade on the USD/CHF. Just seems like the USD/CHF has been the currency pair giving the best entry between the three pairs that we focus on (USD/CHF, GBP/USD, EUR/USD). This was a simple confirmation entry that just so happens to break the trend line support it had been holding. I use the closing price of a candle to determine if a support or resistance level is holding, and once candle #2 closed below that ascending support I liked this day trading setup even more.
Let's walk through this live day trade setup. Candle #1 hit resistance (the resistance was a descending trend line) and then closed below it, giving us a nice reversal candle off of resistance. For a short setup the second candle must close below the body of the reversal candle and this is exactly what happened here. I really liked the confirmation candle down (candle #2) because it not only closed below the body of the reversal candlestick, but it broke below clear support that had been holding very well.
Once those two candles closed, that gave us direction, which was down. Candle number three is where we look for the entry. Normally we wait for the third candle to pullback into the body of the reversal candle. However on this day trade setup the rest of the forex market started to push towards USD weakness and therefore we took the entry as soon as candle number three opened. The market did eventually pullback to the body of the reversal candle but it happened on the forth candle. Sometimes it takes 4 candles for the market to give the pullback, and using forex market correlation can help judge when to pick the entry.
This trade would have eventually hit our take profit but unfortunately it came back and hit our stop at break even before running to the take profit. Overall still another great confirmation entry, however the stop loss was moved to break even a bit to early.
To update yesterday's trade that I mentioned in the recent trades….the USD/CHF long from yesterday did finally hit our +60 pip take profit. On to the next day! See you all tomorrow after our New York trading session.