BOE Asset Purchase 10/06/2011 GBP/USD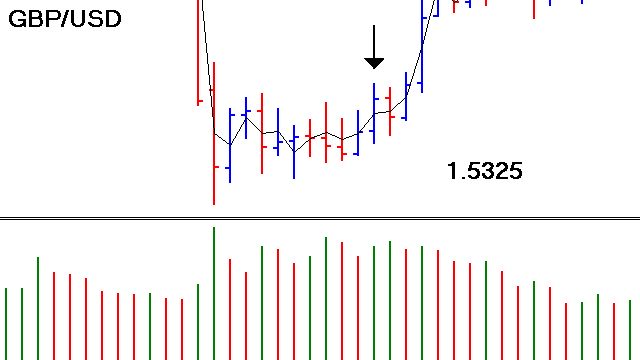 Identifying when consilidation is actually breaking in the forex market can be difficult. What we term the jump bar is one way of identifying that break. The jump bar uses a 1 Moving Average HL/2. The 1MA HL/2 very simply plots the median price of each candle. This is how we identify trade setups for the Jump Bar (JB) entry. We will break down this forex trading strategy and hopefully you can begin to put it into practice with your own day trading.
Notice the bar with the arrow pointing to it. It fulfilled the 3 criteria we look for in order to be a "jump bar". Number one the median line needs to jump above or below at least 3 previous median lines…in this case it jumped above all the sideways consilidation which was 10 bars. After it does that we need to insure that the jump bar closes above its 50% point, in this case it clearly did. Finally it must close with higher volume than the previous bar. As you can see the bar with the arrow pointing to it was the first bar in the sideways consilidation that meet the criteria for a JB. Once you have a JB you then take the entry when the next candle pulls back to the median line of the JB.
Right before this setup there was a 200 pip spike down on the GBP/USD caused from the BOE expanding their Asset Purchases from 200 billion to 275 billion. The next 15M candle moved down a bit more and then fell into a couple hours of quite boring sideways price action. Finally the market gave us a JB entry long which we took at 1.5325 on the GBP/USD. We closed half of this trade for +30 pips and closed the last half of the trade for +310 pips the following day. This trade was +170 pips overall. I will be posting an article tomorrow covering the Jump Bar Entry which should help in the explination of the day trading strategy.
Forex Course & Lifetime Forum Access 

– Lifetime Membership to the Forex Bank Trading Course, Forex Forum, Nightly Video Training, Live Weekly Training session, and Lifetime Member Support at a special March Discount – Click Here For More Information