Can You Trade Forex With A Full Time Job?
Can someone with a full time job learn to trade forex? This is a question we get quite often. As part of our forex trading course and on going education, we provide daily market reviews in the members area. The video below is the review from March 15th 2012 of last week. This video shows a great example of knowing what the market is going to do long in advance based on the hand Smart Money has shown us. Understanding forex market manipulation gives those with full time jobs the ability to take advantage of the forex market, and earn while they learn.
In the video below I start on an hourly chart of the EUR/USD and move to the 15M. Since this video I have begun to show the chart and time frame in the upper right hand corner for easier reference. Please make the video full screen for clearer viewing.
Notice the accumulation through Asia followed by the bottoming stop run reversal formation that we mentioned many hours in advance. When you understand what cycle the banks are in your can predict their next move with a high degree of accuracy.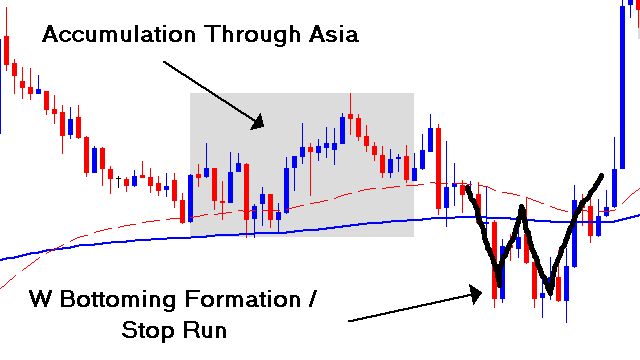 This email below was a response from one of our new members. Its encouraging to see new members already understanding the principals of Smart Money and benefiting from it.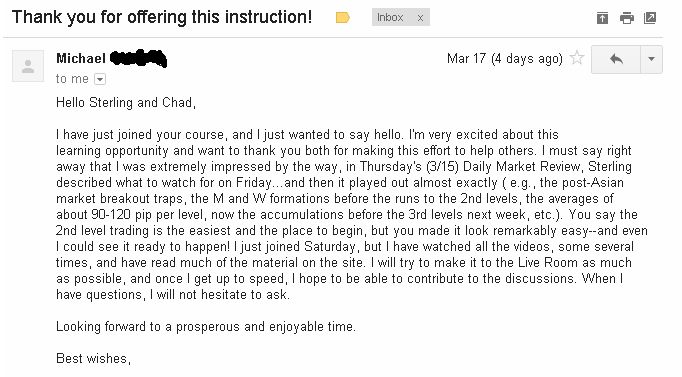 Understanding HOW Smart Money tends to drive the price is the key to knowing which direction they are going to move the market. This is how we knew well over 14 hours in advance how and when the banks were likely to drive the EUR/USD, USD/CHF, and GBP/USD.
Does this mean that we need to know or will know what EVERY move is going to be? Of course not! With that being said it is not necessary to know and predict every move! Those who caught this mid week reversal had access to well over 250 pips. Lets assume someone managed half of that as a few members did…
If the original trade was taken with a 20 pip stop and 2% risk, what would the percentage gain be on that trade? On a +125 pip profit that would be a 12.5% gain. How many of those does a trader need in a month to turn this into a full time career? Many in equities would kill for a profit like that on a monthly basis, let alone on one clearly identifiable trade setup.
Yes we will still have losses but the R/R and high probability setups the banks give can produce consistency like nothing else. Remember 10 banks control well over 50% of the volume in the forex market. If you know what they are doing, what other information does a forex trader need?
So can someone learn to trade forex with a full time job. I think the video above and the many examples we see in the members forum answer this clearly. Happy Trading!
-Sterling
Forex Course & Lifetime Forum Access: Lifetime Membership to the Forex Bank Trading Course, Forex Forum, Nightly Video Training, Live Weekly Training session, and Lifetime Member Support at a special March Discount – Click Here For More Information