Candlestick Confirmation Entry On The GBP/USD 3/26/2011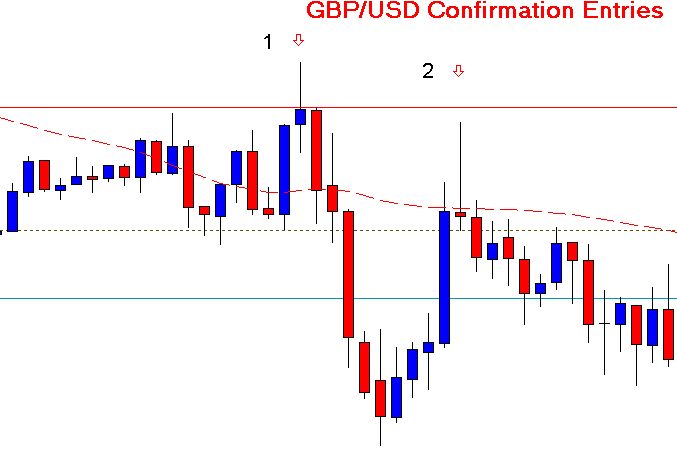 Here we have a great example of a confirmation pullback day trading strategy. At point #1 on the chart we had a high and that was then marked as resistance. A few hours later the market came back up to this level of resistance and held on this level. The candle that came into the resistance also closed as a perfect reversal candlestick formation. The candle immediately following this candle meet the criteria of a confirmation candle by closing below the body of the reversal candle. After these two candles closed you now know direction, and now you wait for the market to give you the entry. Very simply you wait for the 3rd candle to pullback into the body of the reversal candle and take the short from there.
In the case of a short position off resistance many simply take the entry when the market breaks a low they want to see go. However if you feel comfortable with the direction why would you not take the entry on a pullback. By doing so you will have a much tighter stop loss as well as a better risk/reward on all your trades. In the coming weeks I will be outlining confirmation entries that occur each day. See you all after the NY fx trading room session, when we will outline another confirmation pullback trade setup!