Confirmation Entry Day Trade Short On The GBP/USD 01/06/2011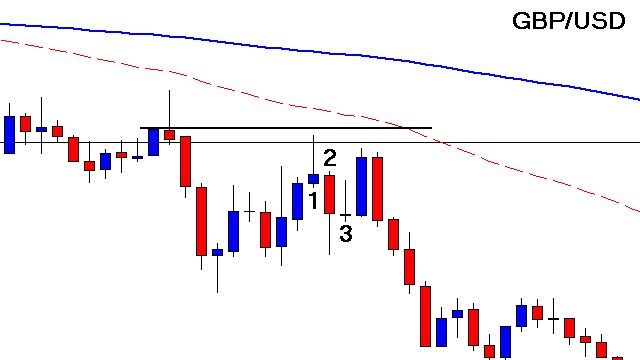 Wednesday was the start of the new month! Finally we saw some decent price action during the NY session which was a nice change from the last few weeks. Over the last few weeks NY has been nothing but choppy, tight ranges during our 3 hour trading training sessions.
Wednesday was going quite slow until the market retraced into resistance which offered us a potential day trading setup. As with any confirmation entry, we wait for the market to retrace into resistance in the case of a short setup. The first candlestick, in the case of a short setup, must touch the resistance and then close below it. Candle #1 meet that criteria.
As you can see the GBP/USD did not touch the overall high. I consider the resistance or support to be hit when the market touches the body of the candle at that support or resistance, not the overall high or low. This is exactly what happened here. Candle #1 touches the body of the candle at that resistance at then closes below it which is all that I require for a reversal candle in the confirmation setup.
Candle #2 is the confirmation candle. The confirmation candlestick for a short setup must close below the body of the reversal candlestick (candle #1) in order to be considered a confirmation candle. Candle number two very clearly closed below the body of candle number one thus confirming the market is moving down short term.
After these two candles closed we then knew the direction we wanted to enter, which was short. When the third candle opens we wait for the market to pullback into the body of the reversal candle, and this is where the entry is taken. This forex trading strategy often times gives a very tight stop loss because the entry is taken on the pullback of the third candle, and not simply when the confirmation candle closes. By giving yourself a tight stop loss you thus increase your risk/reward per trade.
We had a 50 pip take profit on this which was just above some key support. We set the take profit and left….a few hours later the trade was closed for +50 pips. The stop loss on this trade was 25 pips, therefore this day trading setup had a risk/reward of 2 to 1. Usually day trading setups do not have over 1/1 risk/reward setups, however this trading strategy often times brings quality risk/reward setups of 2/1 and higher depending on the setup.