COT Data Showing Euro Buying Pressure – Forex Analysis For 2/16/16
COT Euro Buying Pressure
Looking at the latest COT data the Euro finally crossed the zero mark towards bullish territory for the Asset class. As most know the Asset class in the COT data is the longest term perspective that is shown. One reason I really question this latest move is the lack of higher prices as compared to the net long position. Typically when you see this type of divergence (for lack of a better word) between price and COT data, we can actually see the market turn against the COT buying or selling pressure. Like always, price action is king and we will see what happens as this week progresses.
On a short term basis I'm leaning more to the downside to start the week. The trouble with the EUR/USD is we don't have a clear starting point for the current move down to say we have a valid short cycle. As such, even though I tend to lean a bit more to the short side I will be keeping directional bias open. If we are going to continue to the downside we have very limited upper manipulation points. In fact, at this point we do not have a valid upper level from which to consider a stop run short from. The current Asian highs are the only level I'm considering but I need to see the price work down further before it satisfies the criteria we look for in a new level. For those of you who are members be sure to watch tonight's video market preview for further information on that level. To the downside, I have one valid level from which I would consider a stop run long. 
Want to learn the bank trading strategy, join our live training room, access live member chat, as well as lifetime support? Join Us Here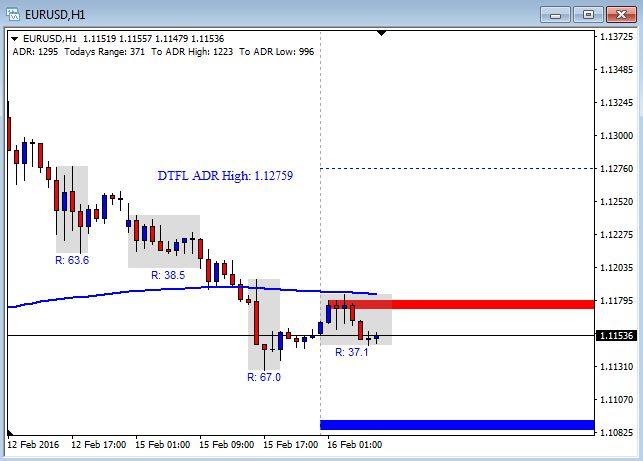 Pound Looking Weak
For the last week the GBP/USD stayed in a wider range that was slightly channeling to the upside. Currently we are starting to break the previous channel which does lend itself to continued downside. Like always, I still need to see a valid stop run of one of the high probability manipulation points before considering it a high probability forex trade setup. Similar to the EUR/USD, we have one upper point that needs to push down further to become valid. As I mentioned in the members daily market preview video, I really like this level but a push down to the 1.4400 area will need to occur before it satisfies the rules in DTFL forex course for new level creation. Other than that level we have one additional upper manipulation point as well as one level level from which I would consider a stop run long or a backside day trade short.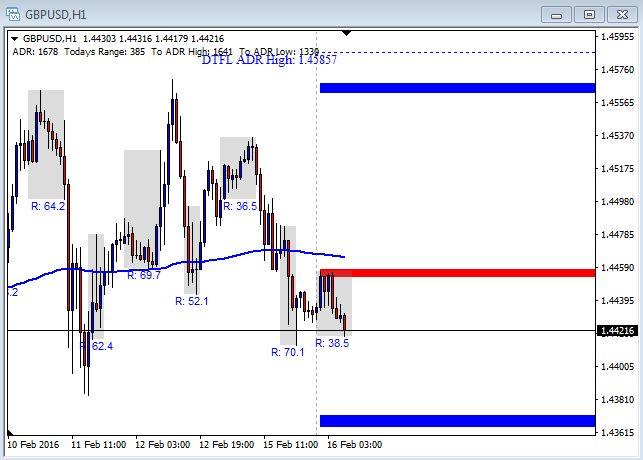 Forex Market News For February 16th 2016
UK CPI y/y 4:30 AM Eastern: Up until the last few months we were having some pretty good follow through after the initial spike. Overall I think we are likely to see continued price action in the direction of the spike moving forward. The wild card is the other data that comes out along with CPI. When we had a price reversal after the spike, PPI was conflicting. If your looking to trade the follow through after the release be sure to look for a PPI conflict. For this month UK CPI is expected at .3%
-Sterling