COT Data Showing Major Yen Selling Pressure – Forex Commentary November 2nd 2015
Below is a chart of the latest COT data (Commitment of Traders) for the Yen. Every time I mention COT data I always stress a couple points. First, the data is a 'lagging indicator". The latest numbers are released on Friday and they cover the previous week from Tuesday to Tuesday. As such they are showing data that is 3 days old. Second, it is not a direct correlation to the charts. Why then do I mention it, and how can it help us as retail forex traders?
The bottom line is that COT data shows the positioning of the big boys and therefore it is useful. Net positions and an overall bias is not something that changes overnight with smart money and therefore the fact that the data is 3 days old is really irrelevant to how I look to use it. All I look for is a really strong signal and then I keep that in mind as a directional bias. I do not use COT data to then place trades directly. The fact is, smart money (banks, hedge funds, trading institutions) may accumulate a position over the course of a few weeks and therefore the market may move a few hundred pips against the direction that is being accumulated by the market. Because I never intend to sit through a draw down anywhere near that size I only use it to give a potential bias and then still require a standard stop run to enter the market.
You can see in the chart below that not only are we seeing Yen selling but we have also seen a prior weekly chart stop run of the lows as well as a bullish engulfing candle that closed above the last month and a half worth of price action. The key now will be to identify short term manipulation points and then wait for a valid stop run of that level to go long. That will allow you to significantly increase your trades risk to reward potential if you intend to hold the trade longer term.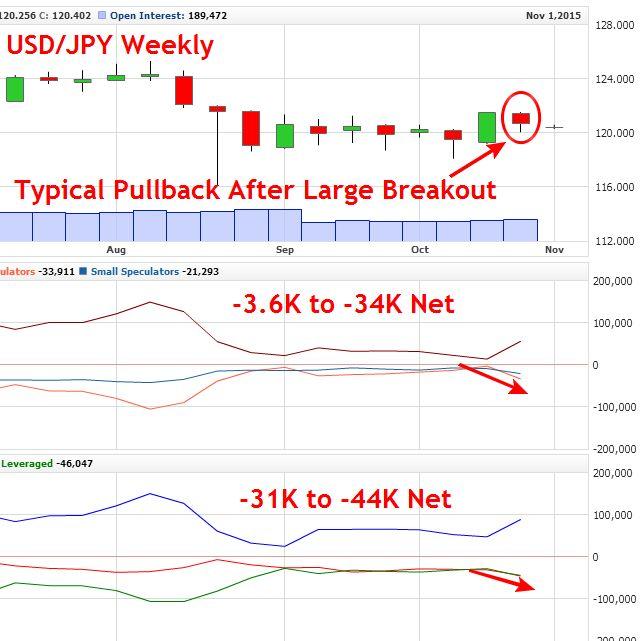 Euro Retraces Most of the FOMC Drop
Going into last weeks FOMC meeting the Euro was already very weak with the prior comments from Draghi indicating a weaker Euro zone and potential expansion of the Euro's version of QE. After FOMC hinted towards a potential hike in December this added to USD strength which sent the EUR/USD tumbling to the downside. We have now almost completely retraced that drop. What does that mean for the price action this week? 
I think this will be a very important week for longer term directional bias. If I had to guess I would say further downside is the higher probability even with this deep retrace. The fact is gaps are more often than not closed. Although you may not consider the move down on FOMC last week as traditional 'gap', it was a very low liquidity move more based on emotion than true selling pressure. In other words if no one is willing to buy the market then very little selling pressure will send the price down. On those types of moves it is very often one sided pressure and thus why you see the market retest these areas to get a feel for true supply and demand. 
To start the week my directional bias will be open. I don't often look at trendlines as potential manipulation points as they are far less reliable but as of right now we have a very clear ascending trendline. Should this level break and be followed by a retest and stop run of the backside of the breakout point it could produce a viable day trade setup to go short. Preferably a trendline stop run is also correlated to a horizontal manipulation point. Right now we do have one lower level that could provide just that if it were broken and then retested from the underside/backside. As far as a line in the sand, the 1.1090 area is going to be significant. If we break and hold above that point then we may be in for a deeper push up. As long as we remain below that point further downside is the higher probability in my opinion.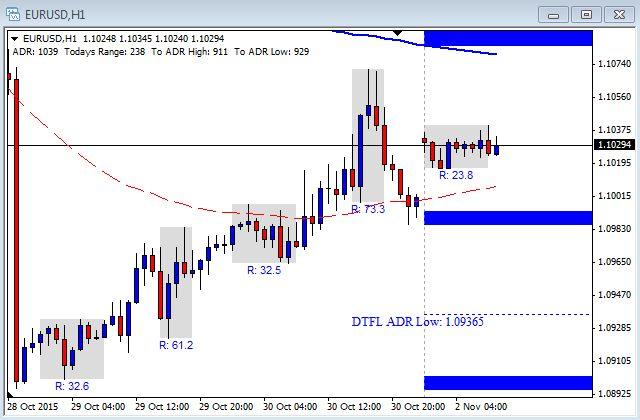 What's Next After Friday's Huge GBP/USD Rally?
If you read last Friday's forex market analysis then you noticed we were looking for the second push to the upside. While we got the expected push, we did not have a valid trade setup to catch the move. Remember, market cycle is not the reason we take entries, it is just a filter for short term market trend and nothing else. Today, I will reluctantly look for the third push to the upside. I'm concerned by the size of Friday's move and the possibility of a deeper retracement before/if it continues up. If we have a sizeable push down first I would probably add Friday's highs as a manipulation point for a trade setup short. Yes that would be against the current market cycle bias but it would be a very high liquidity manipulation point. As such, a valid stop run of that point would be a very high probability day trade setup in my opinion. 
If we are going to see the third push to the upside there are only two points that I have listed on the chart where I would look to see that happen. As always the market simply testing these area/s is not the reason we place a trade, we would still need to have a valid confirmation entry occur once the price gets there. Also, because there is such a wide gap in between the listed manipulation points it is important to watch for the possibility of a new level forming. If your a member make sure to watch tonight's daily market preview video as I cover this subject in depth along with everything else.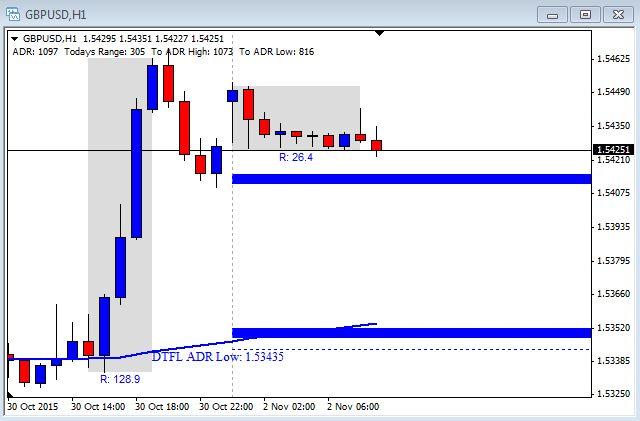 Forex News For November 2nd 2015
UK PMI Manufacturing 4:30 AM Eastern: This is more than capable of a spike of 15+ pips and therefore I would not carry into this release. Unlike a lot of other UK data, this specific release has a strong history of being used to reverse the price. This would be a good news release for trading against if you have a spike against a previous valid trade setup to go the opposite direction of the news. 51.4 is the expected number for this month.
US ISM Manufacturing 10:00 AM Eastern: This news rarely creates a 15+ pip spike but it has recently which is why its on the list. More often than not it will be a dud but it does have the ability to be a decent market mover if a sizeable deviation is hit and the market is in the right conditions. This month 49.8 is the expected number.
-Sterling
Want to learn the bank trading strategy, join our weekly live training room, talk to members in our forum, and have access to lifetime support? Learn more here