Crude Testing Fresh Lows On USD Strength? August 18th 2015 Forex Commentary
Crude continues to push lower and lower. WTI Crude closed below $41 for the first time since spring of 2009. The reason I bring up the price of Crude is not to talk about short term market perspective, but rather long term investing. For anyone who follows Day Trading Forex Live you know I'm a short term forex trader. With that being said I'm a firm believer in long term cash flow investing. Its something I do personally, and something I discuss from time to time.
I've mentioned someone by the name of Harry Dent a few times in the past and he brings up many great points about the potential for future deflation. The current cycle that we are seeing in commodities across the board makes this seem more likely as commodities are suppressed in a deflationary market cycle. Most who predict a future down turn in the market have expressed serious concern with inflation as the real risk. I must confess, I did favor the belief of higher inflation being the real risk. With that being said one point really got me to think. If the central banks are putting this much artificial money into the market and we are still not seeing broad inflation or higher commodity prices then lack of consumption or deflation becomes the likely reason. If that is the case then suppression of commodity prices will likely continue for the next couple years offering much better entry prices in gold and silver.
So many times people get caught with long term market cycle like that mentioned above. They get caught in whatever the boom of the day happens to be. Think about all those who got smashed in the housing market, commodities, ect. That is a major reason why I favor things much less effected by market cycle as a good long term investment strategy. Nothing has created more wealth than real estate. I'm not talking about buying a house for a good price and selling it higher. I'm talking about buying property that cash flows. If you buy a property and sell it later for a higher price that is considered a capital gain. Capital gains require you to time the market correctly and are also the most heavily taxed gains you can make.
Cash flow investing is far different. Rental real estate provides many sources of long term profit. First the rental income not only pays off the mortgage but it also puts positive cash flow into your pocket every month. Additionally most of this income can be offset by paper losses thus providing tax free income. No other long term investment has as many advantages in my opinion. Regardless of inflation or deflation as mentioned earlier, the cash flow of the property allows you to profit regardless of the market condition. The bottom line is people need a place to live regardless of what is occurring. If your worried about long term market direction or the current cluster the governments of the world have conjured up then I would recommend looking at cash flow investing as a protection for whatever comes. Here are a couple books you can take a look at….the first you have probably seen.
Obviously I favor investing that isn't left to the whims of the market. I want to control what is happening with my money. With that being said the other way to do that is learning to day trade forex successfully. This gives about as much control over your gains or losses as you can possibly have. With that being said lets get into today's market.
Failed Break Of Lower Support On EUR/USD
The Euro made another run at the lows today and failed to produce a run lower. While that is a short term bullish sign, the market is hovering very close to the lows as the bounce from the false break was extremely limited. With that mixed signal occurring in the EUR/USD I will continue to remain open on direction as we go into the trading day. The EUR/USD came very close to providing a nice stop run of the European session highs during the NY Session. After we produced a valid confirmation to the downside the market failed to every provide a pullback which was the reason for the no entry.
One thing that was more directionally biased was the GBP/USD. The Pound produced a beautiful stop run setup from our upper level and followed through to the downside quite nicely. With that being said, if the Pound starts to give the second push to the downside then the Euro is very likely to do the same and break lower.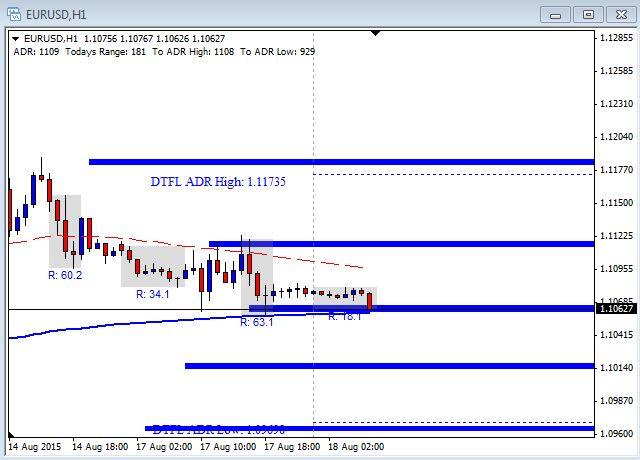 GBP/USD Makes First Push down
As previously mentioned the Pound did provide a very nice stop run and confirmation down from our deepest upper level on the Pound. In regards to a valid confirmation entry, the only issue with this trade was the pullback. Anyone looking for a pullback to 15 pips from the high would have missed the entry by about 6 tenths of a pip while the wider stop would have put us in the trade no problem. To be fair, strict adherence to the rigid rule set would have kept us out of the entry as it missed on the pullback by 6 tenths of a pip.
One of the best things about things about the forex bank trading strategy is that most of what we do is mechanical. For a trader who is looking to learn to trade our rigid rule set is perfect. Most traders struggle with discretion, and nothing is worse than an educator saying "I would have done this" or "I would have done that". Because our entry strategy is mechanical you know whether or not the trade was valid or not once the market reaches a manipulation point. This is perfect for those looking to learn to trade, but it can be a bit of a handcuff in certain circumstances. I would much rather take out as much discretion as possible. This is proven profitable and in my opinion is the best trade off.
Today, I will only be looking for the second push to the downside. As such I will be more aggressive with levels in an effort to try to catch the second push down. Its important to note that we still must see a valid entry setup once the market reaches the pre-selected manipulation point areas. If you do not have a day trading strategy to entry the market then I would highly recommend checking out our forex bank trading strategy and live training room.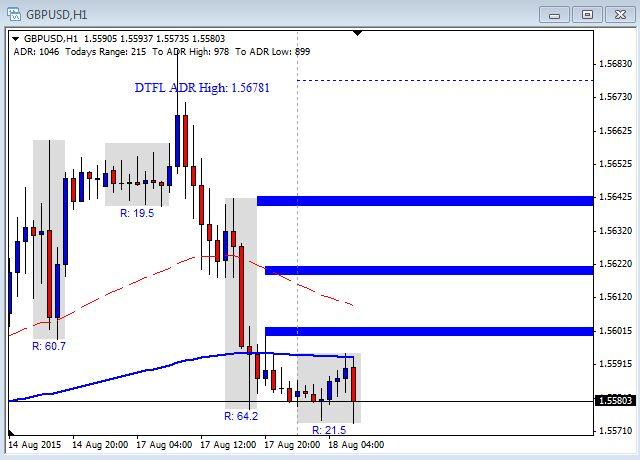 Forex News For August 18th 2015
UK CPI Y/Y 4:30 AM Eastern: Sometimes we see a difference between the monthly number and the yearly so it is key to look at both. Anytime you get a .1 +/- deviation from the expected number you are going to see at least a 30 pip spike. This is a big mover and this month will be heavily looked at as a rate hike becomes more and more looked at. A higher than expected CPI could create a very sizeable run to the upside and shift trend as it would support a future hike. With the current short term trend a miss to the downside will also get a lot of attention. An entry anywhere within 20 pips of pre-release would more than likely produce a nice trade as continued follow through after the spike is likely.
-Sterling
Want to learn the bank trading strategy, join our weekly live training room, talk to members in our forum, and have access to lifetime support? Learn more by clicking here.