Daily Analysis of EUR/USD, GBP/USD August 12, 2013
The EUR/USD this morning is showing us a first push to the downside. Im not too enthused about the gap down being what finished it but it is still a first push and I will have a small bias for the short today. The best level I see for potential manipulation is 1.3346 but it may reach as high as 1.3368. If we can get the hourly close below Thursdays lows last week during the London session my bias will be stronger since I don't really consider the gap down this morning as conviction.
There is the slight chance for the long also today but we will need to see them hold price above Thursdays lows during Asia and see a stop run below during the London session. I have my doubts that there will be that many stops below the gap lows unless they gather during Asia so its possible they run that low and turn but I will be watching for the hourly close to solidify my short bias.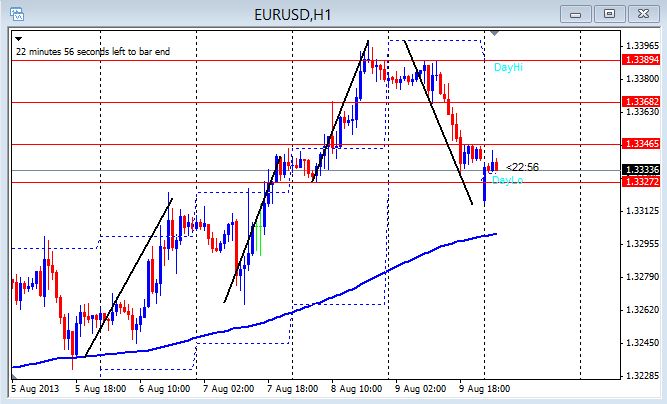 The GBP/USD also has a first push down. Its an intraday push rather than long term but it does qualify in giving a short bias for the day. The gap found support at Thursdays lows so there is a decent chance for the long if they refuse to let it go below 1.5484 but I will need something clear to change my short bias. The best level for the short is 1.5529 with it being proven resistance but if they want stops they will push it a bit higher above 1.5535 to get them. Otherwise this pair could easily chop around in this range today.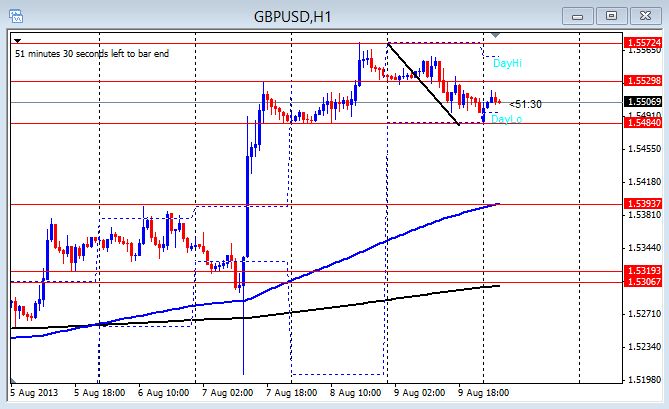 To Learn More About The Secrets of The Mega Banks Check out What is Included in Our Lifetime Membership Here
Forex News Today
The economic calendar looks rather busy today but there is not any releases that have much potential to be used for manipulation. There are a few bond auctions but I doubt they will have much impact unless they go terribly bad of which I highly doubt.
Happy trading
Chad
If you have questions about joining Day Trading Forex Live and becoming an active member please feel free to contact Robin Haywood. He is a current member and has volunteered to answer any questions to give you an idea of what the service involves and support we provide.
You can email him at robindtfl@gmail.com to set up a time for a conversation over the phone if you like or call his US phone line at 702-560-8552 or Skype at RobinHaywood
Do You Enjoy The Daily Forex Commentary? Please Click The Like Buttons, Tweet It, and Google + It Below !!