Daily EUR/USD, GBP/USD Analysis February 12, 2013
Now we have a more clear perspective on the EUR/USD today. NOT! It has gone into 2 days of chop so we have to consider this a third push chop situation. Since there is no clear direction I will be watching the hourly close to give me some more clues on bias. Being in a third push chop the safest entries will be at the extremes with some clear manipulation. A 1 hour stop run to either yesterdays high of 1.3427 or the lows Friday at 1.3353 that has the manipulation candle patterns on the 15 minute chart will have the highest probability. Of course if I see the 1 hour candle close with conviction beyond those levels I will close any stop run entry and look to trade in that direction with some manipulation against it.
I will say that now at least we do have a bottoming formation but breaking out of the consolidation will be the best way to get a clearer bias of where they want to make the next push.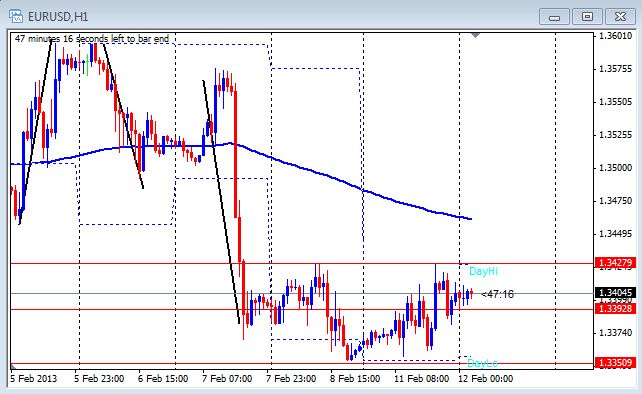 To Learn More About Our Advanced Bank Trading Forex Course, Daily Market Reviews, Live Forex Training Room, and Members Forex Forum Please View Our Day Trading Course Description Here…
The GBP/USD yesterday made a mess of its self with the 150+ pip move to the downside. This was primarily a news based move  as rumors were started that the BOE inflation letter and tomorrows Inflation report will include a revision of growth expectations to the downside. It does make sense and turned into a sustained move retracing the whole move created when the incoming new BOE governor Mark Carney said that the UK "needs to exit its unconventional policies". To be honest I think it was as I mentioned in the Feb. 8th commentary which in summary was that his new job at the BOE will be nothing like what he had going in Canada and even his former boss who appointed him to the BOC said "it was going to be a mega challenge". I think that is an understatement.
Today I will be treating this as a failed second push with a first push down and have a bias to the downside. The first level I will be watching is the 1.5680 level where there was a break out yesterday and was then again tested and held during the end of the US session. If we don't see the manipulation there then it has a good chance of testing the psych level around Fridays lows of 1.5702.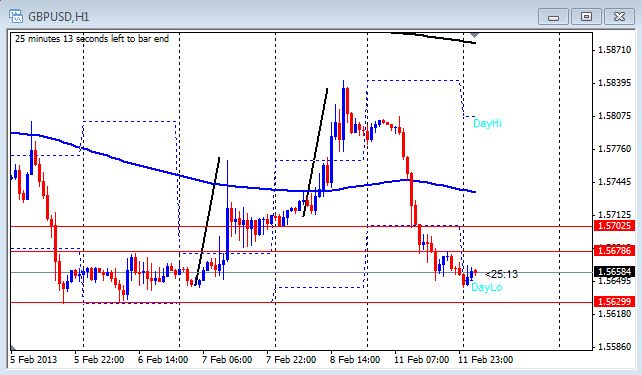 Forex News Today
The Economic Calendar is a bit busier today starting of with a slew of Inflation Data coming from the UK. Since there has been high inflation tolerated in the UK for quite some time I doubt this will have much impact without a big miss. I have my doubts it will miss to the downside and a surprise upward wont be too impactful unless its substantial. Later Gov King releases his inflation Letter to parliament so that will be looked at to see if there will be clues to what comes out in the Inflation report tomorrow. I'm thinking he will save the good stuff for tomorrow but any mention of growth being negative it will create more GBP weakness.
The Euro Zone has the Euro Group meetings again today so the potential for tape bombs are there. At this time my thoughts there wont be much worth while but that's not a promise. Yesterday any talk of the Euro being too strong was refuted later by others and it didn't have a lasting impact on the EUR/USD so I expect pretty much the same today. They are expected to have some sort of statement on the potential (actually real) currency wars going on to try and ease the markets but with the typical hot air backed by escalating of the race to the bottom it most likely will be taken for what it is. A bunch of smoke blowing toward the hind end.
Later during the early US session Mark Carney has a speech that has potential to roil the GBP again if he tries using more verbal intervention but even if he does it will most likely be used to manipulate than create a sustained move. After that Draghi gets his turn to possibly do the Euro dump he has been trying recently. We should always know when the Draghi Euro pump turns into a Euro dump something is up. 😉
The US don't have any news of note today.
Happy Trading
Chad
If you have questions about joining Day Trading Forex Live and becoming an active member please feel free to contact Robin Haywood. He is a current member and has volunteered to answer any questions to give you an idea of what the service involves and support we provide.
You can email him at robindtfl@gmail.com to set up a time for a conversation over the phone if you like or call his US phone line at 702-560-8552 or Skype at RobinHaywood
A Note From Robin: Please note, I am currently retired and living in the Philippines, Iloilo, Panay Island; my local time is UTC/GMT: +8 hours, if it's 9:00 am, New York market time, it's 10:00 pm my time. When you call, if I can't answer right away please leave me a message and tell me your location (Country or State in the USA) and the best time to call you, I'm flexible and look forward to speaking with you!
Do You Enjoy The Daily Forex Commentary? Please Click The Like Buttons, Tweet It, and Google + It Below !!