Daily EUR/USD, GBP/USD, EUR/JPY Analysis July 14, 2014
The EUR/USD has opened the day with a nice gap to the downside showing there was some activity over the weekend but with it already closing early in the day I have my doubts it will mean much for us today. Since they didn't have the conviction to make the second push Friday I will still be looking for it today while a little more open for the long from the lows. The fake out to the hourly 200 does give a small hint that they will likely push it down today but if they do find reason to go into risk assets and equities rise the Euro should benefit.
The best level I see for the short is at 1.3611 but with its proximity to current price the chance of them pushing to 1.3624 is good as well. The hourly 200 is valid as well especially since its been getting a lot of respect lately. The set up will need to be clear to short from it or I will wait for the test of 1.3624. I will consider a long fro 1.3595 but would prefer to see them run higher this morning and leave the Asian box closer to the highs before a run down, then showing they wont let it pass with at least a couple trapping patterns. Otherwise I hope to be short waiting for the break of the lows.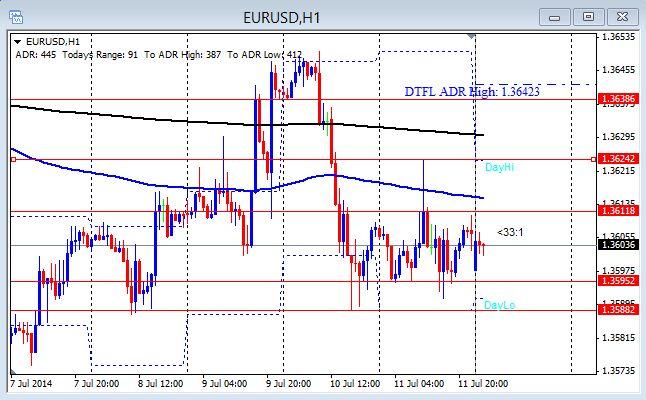 The GBP/USD had a nice entry with a stop run to 1.7141 Friday. I know several members caught the 40 pips they gave on that trade. Good job guys. It also shows the second intraday push so I will be bias for the next push down here as well but still cautious of them holding price in this range since they couldn't break out with the second push. The best level for the short is still at 1.7141 but if they manage to run it down during Asia the 1.7125 is valid as well. There are a couple valid levels in between also but the trapping will need to be very clear to take the short from them since they could easily run to Fridays highs to clear out weak holders. The psych 1.7100 seems to be taking a beating as they look to be trying to keep it above so I will be open for the long from there holding the range but as with the EU hope to be short waiting for the break.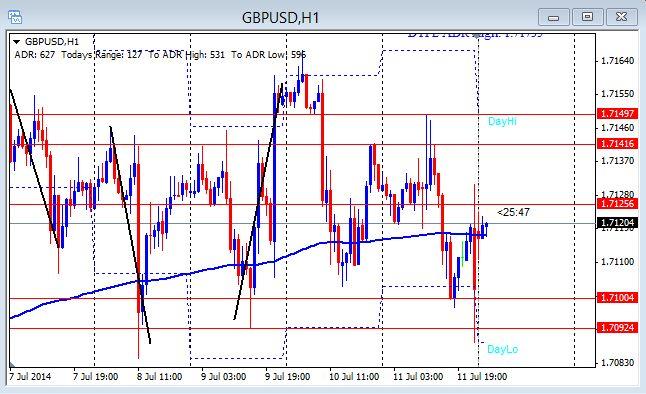 The EUR/JPY was mired in a tight range as well to end the week thanks to a 20 pip range on the USD/JPY on Friday. Of course the EU didn't help much either so I will be a bit more open for the long on this pair today. The best level for the short is up at Fridays highs of 138.03 but they may just run it off from here at 137.92 this morning. I did just take the short as a low risk entry since all three pairs are testing a level and the EJ and UJ show trapping. Im not happy that the GJ didn't agree but if the UJ does manage to get the hourly close above Fridays highs then I will just close with a 3-5 pip hit. If this don't hold here the next level to test is Fridays highs and 138.09 just above. Otherwise if this trade don't work out I will consider the long from the lows but there is much more backing the short than a long today.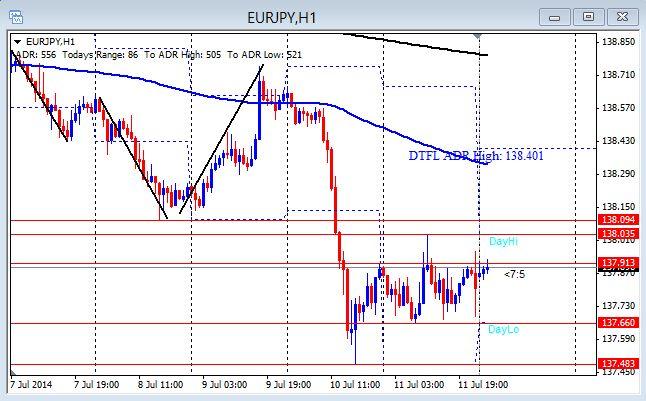 Forex News Today
The calendar is rather bare during the London session other than EU Industrial production. The bar is set rather low expecting a drop below zero so as long as its close to expected it should help my EJ trade. Of course a disappointment would as well but it will take a bigger miss getting above the zero to cause much Euro strength. Later in the day Super Mario has a speech and I expect more talk of "we are prepared to go full blown RETARD" of which should help weaken the Euro as well if he does what I think he will. Otherwise if he don't then Fridays range has a better chance of holding. So far so good for my short. 🙂
Happy Trading
Chad
To Learn More About The Secrets of The Mega Banks Check out What is Included in Our Lifetime Membership Here
If you have questions about joining Day Trading Forex Live and becoming an active member please feel free to contact Robin Haywood. He is a current member and has volunteered to answer any questions to give you an idea of what the service involves and support we provide. You can email him at robindtfl@gmail.com to set up a time for a conversation over the phone if you like or call his US phone line at 702-560-8552 or Skype at RobinHaywood
Do You Enjoy The Daily Forex Commentary? Please Click The Like Buttons, Tweet It, and Google + It Below !!