Day Trade Entry On EUR/USD 08/06/2011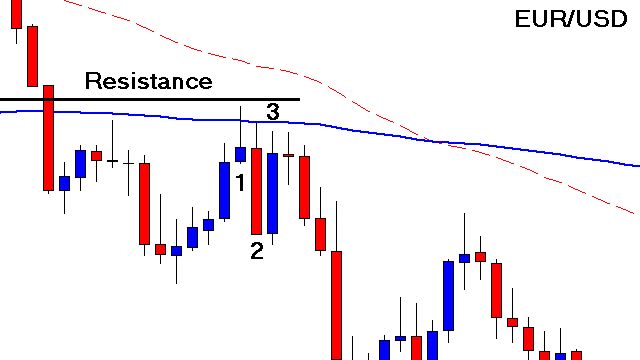 Here is yesterday's trades. Throughout yesterday we had 2 setups in the forex trading room. The first trade never had any follow through and therefore we took an exit for -10 pips when it looked like it wasn't going to move in our direction. The second trade of the day was a bit more clear of a day trading setup. Both the GBP/USD and the USD/CHF in addition to the EUR/USD were setting up to move towards USD strength. Because of the clear market correlation this was an easy trade to call.
As with every confirmation entry we first look for the market to come into resistance or support depending on the direction the forex market happens to be moving. The EUR/USD had been moving down towards USD strength and then started to retrace, finally ending at resistance. The market came into the previous support that was not acting as resistance, and then closed below it. This meet the criteria for the reversal candlestick in the confirmation entry.
The reversal candlestick gives you an indication that the sellers are indeed coming into the market, however the next candle confirms it. The 2nd candle in the setup is called the confirmation candle, and it has one goal. In the example of a short setup as we had here, the confirmation candle must close below the body of the reversal candle. Candlestick number two very clearly meet that criteria. The first 2 candlesticks told us the EUR/USD was at least short term going to move down.
The third candlestick in this forex trading strategy is what we use for entries. When the third candle pulls back into the body of the reversal candle (candle #1) this is where the entry is taken. As you can see the market pulled back perfectly, and we took +30 pips off this day trade setup. Overall for the day we managed +20 pips. Hope all is well with every0ne…see you with the next update from today's trading.