Day Trading Forex Confirmation Entry USD/JPY 03/06/2011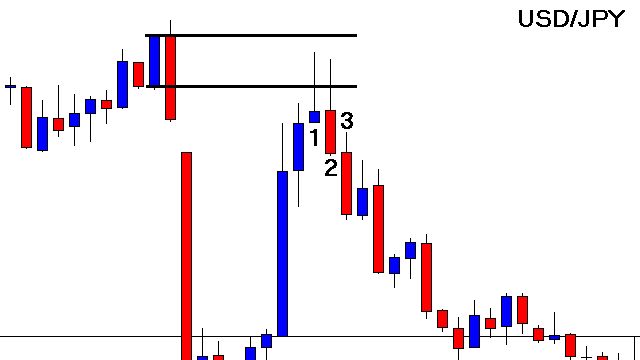 In the last post that covers Wednesday I talked about when the market comes into resistance or support. This chart shows very clearly what I mean by touching the body of the candle at resistance or support….in this case resistance. Notice how the market never touches the exact overall high but rather it touches the body of the candle at that resistance. At any turning point (resistance or support) there is the candle that touches that level and then the candlestick that bounces off that level. I choose the candle with the smaller body and as long as that candle body is touched then I consider that resistance as hit. As you can see in this example I wrapped the smaller of the two candles at the previous resistance….candle number one then touched the body of that candle and closed below it thus meeting the criteria for a reversal candle.
The confirmation entry forex trading strategy requires the second candle to close below the body of the reversal candle in a short setup. Candlestick #2 clearly meet that criteria. As always we took the entry on the third candle when it made a pullback to the body of the reversal candlestick. As you can see the third candlestick never quite made it to the body of the reversal candle. However this entry short was setting up so clearly that we took it a bit early when it looked like it was going to break out to the downside.
We had a +40 pip take profit on this day trade, but it never quite made it there. The order on this trade we had set before leaving the forex trading room was to close this position before the forex market closed. Therefore this trade was closed out for +25 pips before the weekend close. The reason for this is the past intervention on the Yen. While I don't mind having a running position while the market is open….carrying a short position on any Yen cross over the weekend is quite simply opening yourself up to unnecessary risk, and thus why we closed. I hope everyone had a great week of trading, and I will see you all next week!