Day Trading Strategy – Forex Day Trade EUR/USD 01/08/2011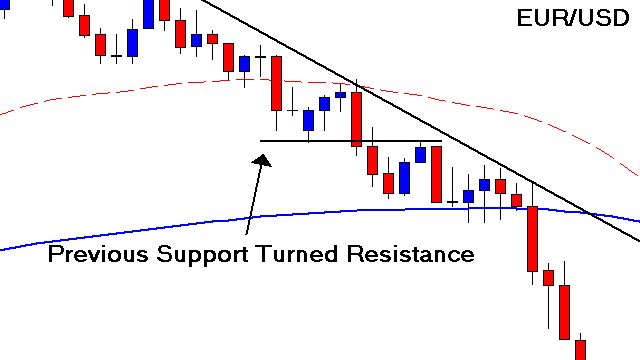 Well I've never been so irritated about making +30 pips on a trade lol:) Let's get right into today's day trade! As we came into the forex room for the NY session both the EUR/USD and the GBP/USD were falling. The EUR/USD was riding a nice descending trend line down which was one reason we thought there was resistance there. In addition to that the price came back up to a previous support level, that was now broken and acting as resistance. I call these levels Breakout Continuation levels.
As with all support and resistance levels…..all you can do is simply mark out these points and then once the price reaches these areas wait to see if your entry criteria is fulfilled. This is exactly what we did here. The price pulled back to that resistance and then we waited to see if our volume entry criteria was fulfilled….and it was. Our entry was around the 1.4400 area on the EUR/USD. This was an exceptional entry but I closed the second half way to early for only +40 pips. The reason I did this is because we had a volume entry up on the GBP/USD and therefore I exited the EUR/USD short and took the Sterling long. Unfortunately that did not have any follow through and this left us with a total profit between the 2 forex trades of +15 pips.
I can't complain to much about starting off the month positive. This is going to be a very exciting month. As I mentioned in the last post, our new forex trading strategy that relies on volume confirmation won 75% of the time last week. These numbers are right on track with our forward and back testing, and therefore I look forward to what this will produce live in the forex room this month. We shall see as time progresses.
If you would like more information on our new Forex Day Trading Course and lifetime membership you can see whats included at the link above.