Dollar Index Closes Mixed…Reversal? July 21st 2015
Overall we had a very interesting day. First the dollar index closed very mixed after a very positive last few weeks. Neat the end of the day the EUR/USD also created a very large stop run of the lows. Additionally the GBP/USD tested lower and failed to continue. By now means does this give us a definite long for the EUR/USD and GBP/USD but it does give me a bit more confidence in any long setup that would occur.
On a separate note US equities are approaching overall highs cautiously. This retest of the overall highs is rather important right now as this is a semi-post Greece test of the highs. Second it also gives us some indication of whether or not the market thinks a rate hike is near. A break of the highs would signal the market feels we are past some of the most major concerns. Obviously I don't agree with the market being at all time highs…anyone reading this knows I'm a perma bear:) That being said the market rarely does what makes sense on a long term perspective which is the reason I day trade short term market manipulation.
Euro Stop Run Of The Lows
The Euro is at a substantial daily low and the market for the time being is respecting it. Late in the day the market created a major stop run of the lows and that has me thinking a push up might be in the cards for today. This is much more of a short term opinion vs long term sentiment. With that being said I'm not limiting myself on direction, and like always a stop run of any high probability point will put me into a trade. That was the case today. The Euro produced a stop run of the highs during the NY Session and produced a quick full profit day trade setup short. For members make sure to check out today's daily market review for a full breakdown of the setup.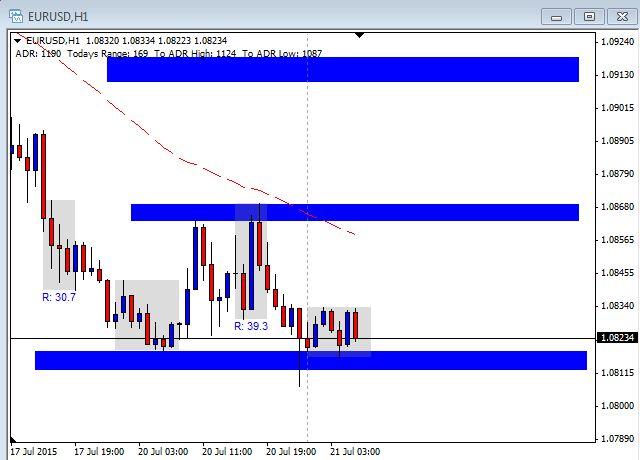 Pound Forming 'Inverse Trend Channel'
The Pound is currently forming what I term as an inverse trend channel. I've been very mixed on the Pound over the last few days and to be honest I'm still not set on direction. Similar to the Euro I will be open on direction and simply let manipulation around one of the pre-selected high probability points determine trade direction. With that being said what we could be seeing is a potential continuation pattern. When the market sets a channel that runs inverse to the previous move I call that an inverse trend channel and again it often marks potential continuation of the previous move. In order to take that long setup we would need to see a stop run of the lows. Sorry I had to compress the chart so much on the Pound. There is a lower level quite a ways away that I wanted to get in the picture in case of a reversal breakdown.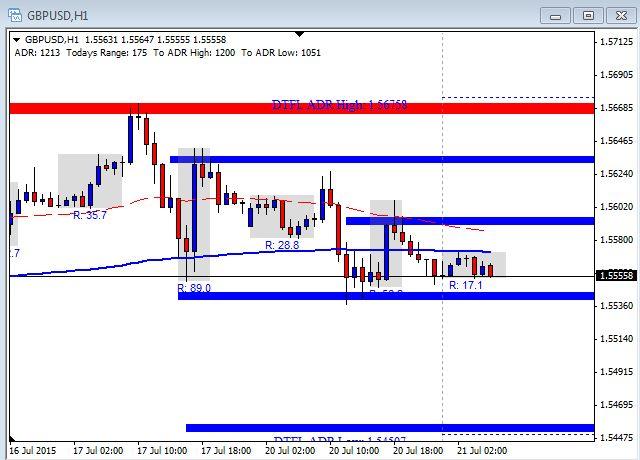 Forex News For July 21st 2015
Another day of no substantial news during our trading hours. If you trade during the Asian session then you will have to watch out Aussie CPI Q/Q which is expected at .8%. Any deviation from the expected will create a great deal of volatility in the AUD/USD or any other Aussie cross. This news has been all over the place. Some months a positive deviation has created a spike down in the AUD/USD and then last month the AUD/USD spiked up on higher than expected CPI. Overall I would not be carrying an Aussie position of any kind into this news unless it was a position trade for overall fundamental direction.
-Sterling
Want to learn the bank trading strategy, join our weekly live training room, talk to members in our forum, and have access to lifetime support? Learn more by clicking here.