Double Top Confirmation Entry Short On The USD/CHF 07/04/2011 & 08/04/2011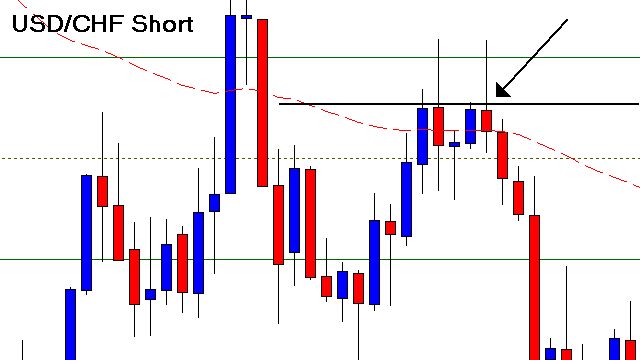 Earlier on in the day Thursday we took a half position long on the EUR/USD based on Trichet's speech and took a 40 pip hit. Fortunately this was only on a half position so it was -2% overall for that trade. We kept our nose to the ground, and stayed patient and took +3% off of the USD/CHF. In the chart above I am going over an entry we saw today but did not take because there was not enough pullback on the entry candle. However I still wanted to illustrate this entry because it was a solid confirmation setup. First and foremost with any confirmation entry the market needs to be coming off of some level of support or resistance, which was the case here.
The market made a nice retracement against the overall trend into nice resistance. At this nice level of short term resistance the market formed a perfect reversal candle thus giving us the first candle in the three candle confirmation setup, the reversal candle. Next, the following candle closed below the body of the reversal candle thus giving us our confirmation candle. Normally on the third candle we would wait for the market to pullback into the body of the reversal candle and then take the short there, however this candle never pulled back that far and thus I did not take the entry.
Today's Forex Trades
Today, Friday the 8th of April we took 2 trades both of which were on the EUR/USD. We took two long positions, one netting +10 pips and the other losing -10 pips. Looking back both trades should have made +30 pips or more but I was a bit impatient with them and used way to tight of a stop on the second position. Overall we ended up break even for the day. Hindsight is 20/20 and l0oking back on this one teaches an important lesson. Trying to save yourself money by using extremely tight stop losses usually ends up with what you were trying to avoid…..a loss.
It is important to have a set stop loss going into each trade and then keep it there. I trial stops by using the each successive swing high or low from after I get in the trade. However I usually never move my stop loss past break even until I get a new swing high/low to move it to. The point is understand your trading strategy for your stop loss and stick to it. Doing so would have ended up making me +50 pips or more today, instead I ended the week with a break even Friday. Overall still net positive for the week, and on to the next! Lesson learned, and I will see you all next week in the live training room!