Equities Have 4th Down Day, Bounce From 2015 Lows Jan.15, 2015
Equities Saved At The Bell But Still Have 4th Down Day In A Row
It dont surprise me that we saw the nice bounce from the current yearly lows on stocks. I expected as much be it the Plunge Protection Team or the Buy The Freakin Dippers but the true test will be if they can manage to hold it up. If they can then its more reasonable to say its the PPT but if not then the greater BTFD fools are being led to slaughter since when it comes time that the NY Fed wont save the markets because they stand to lose their butt then its game over. Having said that I do expect something to be pulled out of the proverbial hat from one or more central banks before they let that happen. At this point its likely to be the ECB going full retard since they have seemingly gotten a green light from the European Courts on buying government bonds, for now any way. We will have to wait and see what Germany says about it after the program starts. Im sure they wont be happy but may just go along with it since the German economy is starting to feel the pain as well. Again the markets will have bought more time but how much remains to be seen.
There were also a couple developments helping a bounce in oil prices. The most noteworthy was the Russians deciding on using their Reserve Fund to help stabilize Oil prices and the Ruble. It will be interesting to see how far 88 Billion USD will go trying to support a market where there is too much over supply and dropping demand. However it would be something if they can just stabilize the Ruble for now but without oil rising the Russians will remain in trouble, maybe eventually running their Reserve Fund dry. I have to admit I do find it funny what the boys in power will do to hold back the correction thats been a long time coming. Eventually there will be a time of reckoning but it will only be after they have exhausted every trick in the book and just when we think they are out of tricks we find there were ten more hiding up their sleeves.
EUR/USD Runs Stops Before Bad US Data
Once the ECB got the green light for their OMT program the EUR/USD drops but once the US Retail Sales figures were released it bounced back running stops to the highs before closing the day closer to unchanged. At this point it looks as though they arent sure who will be on the print fest first. I have to admit its a toss up even though I think the ECB will start first but the Fed may not be far behind.
There is nothing clear for direction on this pair today so the safer levels will be at yesterdays highs or lows. There are a few significant levels in between but with cleaner price action on the other pairs the added risk at them will not be worth trading today.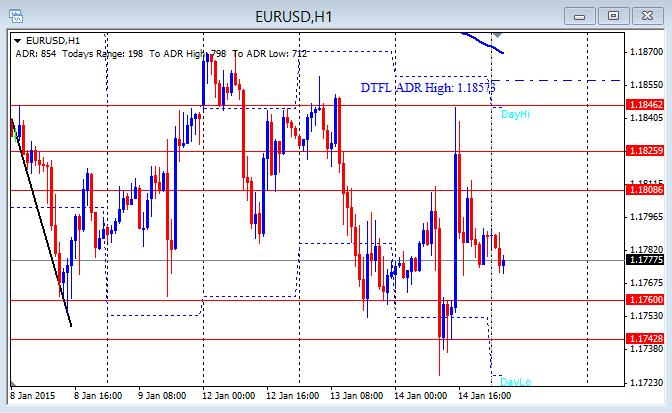 GBP/USD Pushes From Range
The GBP/USD shows a clean push up from the range its been holding for days now. This has a higher probability of continuing considering the current thoughts seem to revolve around the ECB printing in the near future and the Fed not far behind. My bias will be for the long with the best level being at 1.5209 while the hourly 200 just above is valid being so close to the 20 psych level. They may push as low as 1.5190 but I have my doubts if they do intend to run it higher today. I will be open for the short from 1.5255 with something clear enough to change my bias but prefer to be long waiting for the break.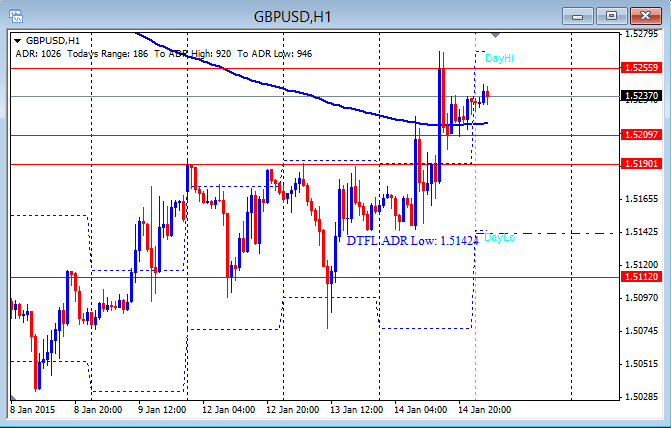 EUR/JPY Extends Push Reversing Same Day
The extended push then reversal on the EUR/JPY yesterday leaves it unclear on direction until we get some conviction above yesterdays highs. If that happens I will be bias for the long today and with the BOJ having some releases early on we may just get it before the London open. Otherwise I will be waiting until after Kuroda has his fun before looking for an entry this morning. I will be open for the short from 138.85 if they hold it through the news and test later while the best level for a long today is 137.36 if we dont get any conviction above 138.88. At that point the 138.42 becomes valid for a long as well.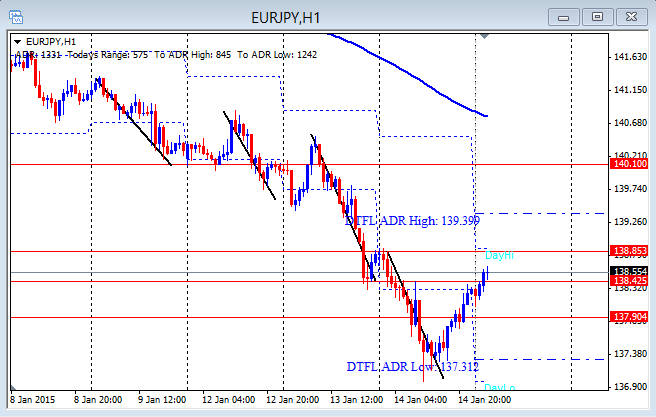 Forex News Today
The calendar is quiet during the London session today so we may get more talk from ECB members about how great it is they got the green light from the European Court potentially driving the Euro but will likely be sucked up mostly on the EUR/GBP.
The US has Thursday Unemployment Claims, PPI data and Empire State Mfg. Index that could get them pushing the USD in early NY session. If PPI disappoints then deflation fear could set in and the USD drop on more QE thoughts. Empire State shouldnt really do much unless it misses big, Unemployment Claims has potential to surprise with potential for oil sector lay offs coming in. Later there is also the Philly Fed Index. This one is a toss up on what to expect. Lately these have been closer to expectations but there has also been some big misses. Its expected to drop from 24.5 to 19.9 so its more likely it will be close but if I am in a trade and close to my profit target I wont be holding through it.
Happy Trading
Chad
MY APOLOGIES FOR THE BROKEN VIDEO OF INSIDE JOB IN THE COMMENTARY. I DIDNT THINK I WAS COPY WRITE INFRINGING WITH AN ITALIAN VERSION ALREADY ON YOUTUBE. HOWEVER YOU CAN STILL WATCH IT AT THIS LINK. STILL A MUST SEE!
MEMBERSHIP SPECIAL – CHECK OUT THE CURRENT DISCOUNT ON OUR FOREX COURSE AND LIFETIME MEMBERSHIP…SEE IT HERE
If you have questions about joining Day Trading Forex Live and becoming an active member please feel free to contact Robin Haywood. He is a current member and has volunteered to answer any questions to give you an idea of what the service involves and support we provide. You can email him at robindtfl@gmail.com to set up a time for a conversation over the phone if you like or call his US phone line at 702-560-8552 or Skype at RobinHaywood
Do You Enjoy The Daily Forex Commentary? Please Click The Like Buttons, Tweet It, and Google + It Below