Euro And Pound Start Week Sideways – November 10th 2015 Forex Commentary
Euro Ends The Day Sideways
The break down of the EUR/USD is going to be pretty much identical to yesterday forex market analysis. The only way we can get a valid trade setup is if/when the price touches a pre-selected manipulation point. Yesterday we never made contact with either the upper or lower level and therefore we cannot have a valid setup. For today the only thing I have adjusted is the upper manipulation points as I have added one level in the chart from which I would consider a stop run from.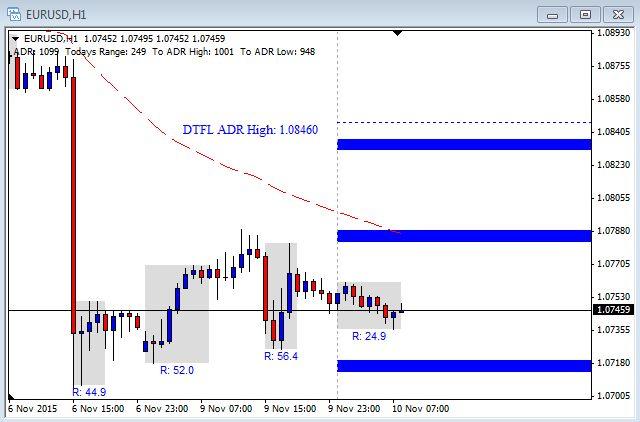 GBP/USD Shows Some Strength
To begin the GBP/USD came into our first upper manipulation point and initiated a stop run a little after the start of the London market open. The confirmation entry must occur within a certain number of candles in order to be a valid trade setup. As I covered in tonight's daily market preview video, this trade did produce a valid confirmation but never pulled back to the required entry point and therefore was a no trade scenario. Later, during the New York session, we had a very nice backside day trade setup long of the same level that had almost produced a short earlier in the trading day. The second trade did provide the needed pullback and a +2% gain was the result on the initial 2% risk. Unfortunately this trade missed a full +4% take profit by only 4-5 pips before giving back some pips into the New York market close.
For today, the levels we have to work with are still few and far between on the Pound. The upper level is listed in red because it has not quite satisfied the criteria we require. In order for that level to be valid we will need to see a further push down first. For any members be sure to watch the daily market preview video for a full break down of exactly what we need to see for that level to be a valid upper level.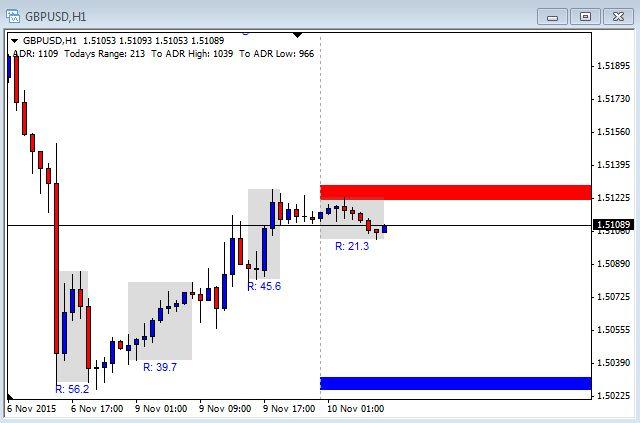 Forex News For November 10th 2015
Again, we have another trading day void of any news worth mentioning.
-Sterling
Want to learn the bank trading strategy, join our weekly live training room, talk to members in our forum, and have access to lifetime support? Learn more here