Euro And Pound Stay Range Pound – Daily Forex Forecast 2/3/16
EUR/USD Looses Steam
If the US Dollar Index holds the range it has been holding since the beginning of December then we could see it push up today. This would support more of a bias to the downside on both pairs today, but this is not enough to trade with a directional bias. One thing I don't like with the Euro is the limited levels to choose from, especially our lower levels. The EUR/USD does have two solid upper manipulation points from which I would be happy to take any valid stop run short. In regards to lower levels, I will be starting the day without any. We do have some lower points that I did consider but nothing official to start the day. As I covered in the members daily market preview video, any lower level would have to be newly created.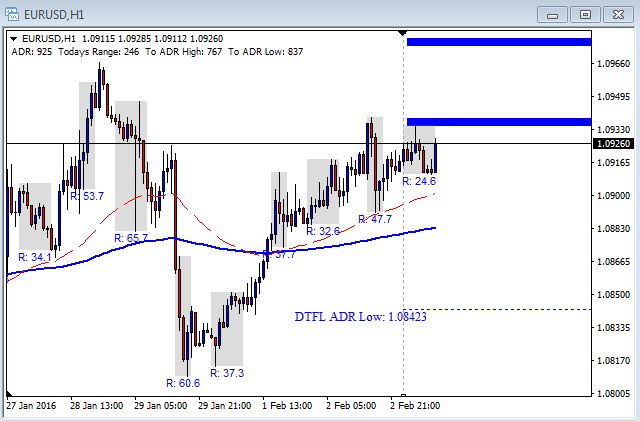 Weak Pound Economic Data
One of the things I mentioned in yesterday's forex forecast was Construction PMI. The news came out worse than expected and quickly reversed back to the upside after the initial surge down. I imagine quite a few forex traders got caught chasing that move to the downside only to see the price snap back up. Today we have Services PMI which has been just as much of a coin flip in regards to continuing in the direction of the release. Currently the GBP/USD still lacks an official cycle bias according to the rules taught in the day trading course. With that being said, yesterday's larger stop run into lower prices down tend to give me a continued bias up. If they were buying lower prices yesterday that would likely be the case today as well. To start the day I have one lower and 1 upper manipulation point from which I would take any stop run that occurred at either level.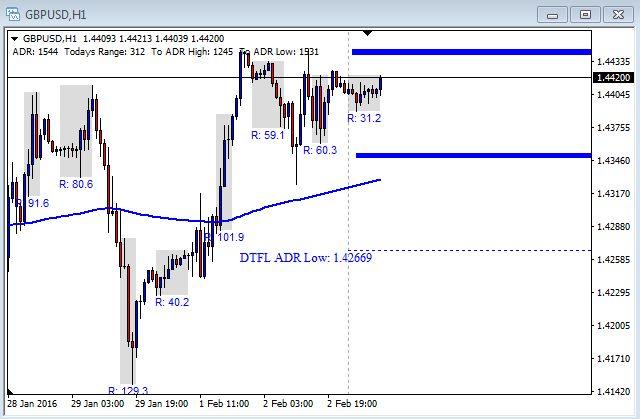 Want to learn the bank trading strategy, join our live training room, access live member chat, as well as lifetime support? Join Us Here
Forex News For February 3rd 2016
UK Services PMI 4:30 AM Eastern: As I mentioned above, services PMI has been a decent mover in the past on the spike but has inconsistent follow through. For this month the expected release is 55.3
US ADP Non-Farm Payroll 8:30 8:15 AM Eastern: This is a news release that I would be happy to trade against if there was a previously valid stop run that was still valid. More often than not ADP has been the catalyst for a short term reversal. This month 195 is the expected number.
US ISM Non Manufacturing PMI 10:00 AM Eastern: While ISM has had a better record of holding the direction of the initial spike, it is still rather poor. With all 3 of today's economic releases, I would be much more comfortable trading against the spike off of a key level as opposed to looking for further continuation. 55.1 is the expected number this month.
-Sterling