Euro Day Trade Short 02/08/2011 – Live Forex Trade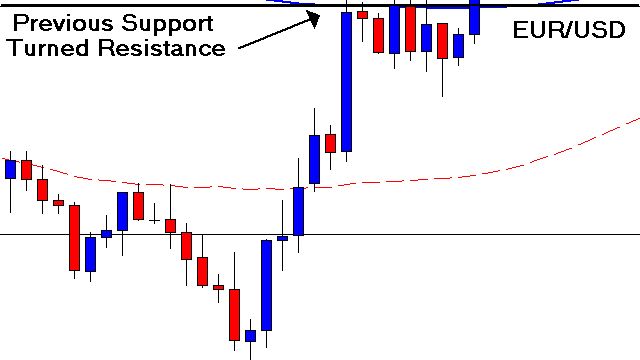 Around the lows we missed an entry long. Unfortunately the market had been trending to the downside and this trade gave the entry to go long right at resistance. I didn't take this day trading setup because of this an it ended up being the "trade of the day". A little later on in the day we got a volume based entry to go short at a breakout continuation level. Essentially it was previous support that was broken and now acting as resistance.
After getting into the EUR/USD short the market then went sideways. This was the first sign that we should have gotten out. The second was the 3rd candle from the right. Notice how it tests below that tight little range and then gets rejected back to the upside? This showed a clear sign that the sellers simply were not there. Because of this we should have got out but didn't and ended up taking a 20 pip loss.
There were a few more shorting opportunities once the price hit major resistance around the 1.4280 level but it just seems like it didn't come together perfectly. Either way there was a lot of wasted pips today to be honest. That being said we have tomorrow:) That's the great part about being a forex day trader….you always have the next day to look forward to. I forgot to wrap up last months trade but we ended up around 2% for the month. It was a pretty slow month and we sat around break even for the majority of it until we made the major change to our new tick volume day trading strategy.
This day trading strategy has been in the works for a while but we finally got enough forward and back testing to put it into action live. This market is forever changing and if you can't change with it you will eventually lose. There is no fx trading strategy that you can trade today, and then trade it the exact same way 5 years from now. In some way shape or form it will need adjusting.
Although the Confirmation Entry – Forex Trading Strategy took a profit 6 out of 7 months so far this year I felt like we needed to filter out some of the fake out's due to the increase we have seen in short term volatility. Using volume we have done that, and done it well. As I said yesterday I'm looking forward to seeing what this month brings, after all trading forex successfully is the ability to create profit month after month rather than just a day or week of profitable trading.