Euro Whipsaw On Potential Greek Deal June 23, 2015
We Have A Deal – Or Not
As I check my news sources this morning I see that the Greeks have capitulated and will go for the extension of the current bail out program. Or will they? I have to admire Tsipras for holding out to the last minute trying to make the best of a bad situation. A visit to Super Mario was the final straw where Draghi told the Greek PM that the ECB was about to cut them off from the ELA which would send the Greek banks asunder making the situation far worse than it already is in Greece. In short Tsipras didnt have much choice even if its just a token can kick before he has to go try his best to sell the deal to parliament. Slim chance there but possible I guess.
From Bloomberg: European Central Bank President Mario Draghi told Greek Prime Minister Alexis Tsipras in meeting on Monday in Brussels that the ECB will help secure the country's banking system as long Greece is in an aid program, Greek government official tells reporters on the condition of anonymity.
From Dow Jones: There is also the question of Mr. Tsipras's future as prime minister if he does compromise. No one here is unaware of the fates of former Greek premiers George Papandreou and Antonis Samaras. Both signed bailout agreements with Europe. Both lost their jobs, and Mr. Papandreou's party has been all but destroyed. Going back on his leftist principals "would be political suicide for Tsipras," Mr. Chatzilamprou said. "It would mean he is also recyclable: They could replace him with someone else.
As I said yesterday, this is far from over.
EUR/USD Whips 350 Pips
The 350 pip gyration on the EUR/USD shows there isn't much conviction on direction leaving me open today as I expect this range to hold for now. The best and most probable trade is a long from 1.1320 considering the proximity to current price. Otherwise if there isnt a set up to go long from I will watch 1.1400 for a short.
GBP/USD Pushes Down To Support
The move down on the GBP/USD yesterday does count as an intraday push but if there is any conviction above 1.5841 (being the best level to short) during the London session they are more likely to test the highs and potentially hold in a chop. Otherwise I will be open for a long from 1.5804 after seeing a clear stop run.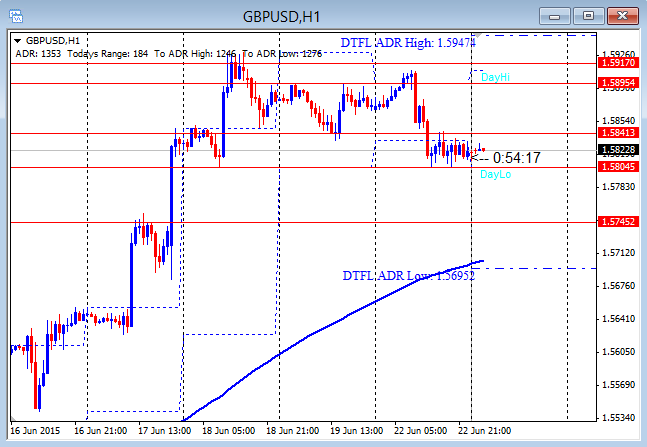 EUR/JPY Tests Highs After Closing Gap
The push down Friday on the EUR/JPY has clearly failed at this point so I will be open on direction for this pair today. I am encouraged that we are starting to see movement on the Yen but not holding my breath that its going to last. The safer entries will be from the extremes but I will be watching the higher risk level at 139.71 for a potential long as well.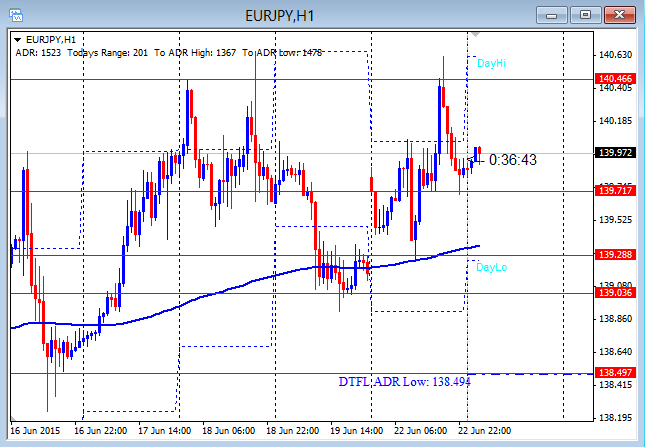 Forex News Today
The calendar starts off with Manufacturing and Services PMI from France, Germany and the EZ all together. Most are expected flat but if the French figures pop above 50 it should create some Euro strength as long as the German data dont disappoint.
The US has a Fed member speech that could get the USD moving on any rhetoric of rate hikes. Just after they also have Durable Goods data expected to pop into positive territory on core figures. If its positive then the chance of New Home Sales later in the day goes up as well. The Manufacturing PMI is expected to rise slightly but baring a big miss its less likely to cause much reaction.
Asian session traders have the BOJ Meeting Minutes to keep an eye on tomorrow morning.
Happy Trading
Chad
MEMBERSHIP SPECIAL – CHECK OUT THE CURRENT DISCOUNT ON OUR FOREX COURSE AND LIFETIME MEMBERSHIP…SEE IT HERE
If you have questions about joining Day Trading Forex Live and becoming an active member please feel free to contact Robin Haywood. He is a current member and has volunteered to answer any questions to give you an idea of what the service involves and support we provide. You can email him at robindtfl@gmail.com to set up a time for a conversation over the phone if you like or call his US phone line at 702-560-8552 or Skype at RobinHaywood
Do You Enjoy The Daily Forex Commentary? Please Click The Like Buttons, Tweet It, and Google + It Below