EUR/USD Forex Commentary February 10, 2012
So now we have a debt deal for Greece. Yee Haw! Or do we have a deal? Something in my gut tells me it has more prospect to be a deal in words only but lets enjoy the fact that Greece will not be in the title of three quarters of the news I read. I dont know how much more of that I could take. I already have this little twinge in my right eye when ever I have to discuss Greece in this commentary. (joke LOL)
What has me wondering is 2 people holding  government posts have resigned in protest of Athens accepting the deal for minimum wage reduction and pension reforms. In particular they were the Deputy Labor Minister and the Social Security Minister. Now of course with all the cuts if were either one of these people I would be thinking I couldnt really do my job and would probably resign as well but it does leave the open question as to who it will fall on to do these jobs and are they really going to make the cuts promised? Only time will tell.
Anyway I am happy to see the deal is in its final phases and the market can get back to some sort of crazy normality. I am tired of seeing my trades go into some nice profit only to  be slammed out at break even due to some Greek tape bomb.
Now I am sure the Smart Money will be conspiring together to slam some other European country. Most likely Portugal but it will take some time to get the plan together so we should be able to enjoy a week or two of somewhat normal trading LOL.
The charts are still somewhat in indecision mode but the fact is when we see indecision candles its more of  a sign of the Smart Money making a decision and doing their best to fool us into the wrong direction or keep us from entering positions because the market is "indecisive". The way I see this daily chart is the February 9th candle tried to break out to the top side but still closed below the resistance at 1.3287 then closed as the spinning top since the Asian market made an initial push down in the morning. I see this as a bearish sign. If there was that much optimism in the market for the Euro I would expect a close above that area even if it was just 10 or so pips. We will see what the market has in store and I am keeping an open mind today. We will see if I am correct in the near future. I will not be surprised if it will reach up and test the 1.3340 level today either the "good vibes" for the EZ may take a day or two to fade.
Check our our latest day trading article … Non-Farm Payroll – Should You Trade Forex News?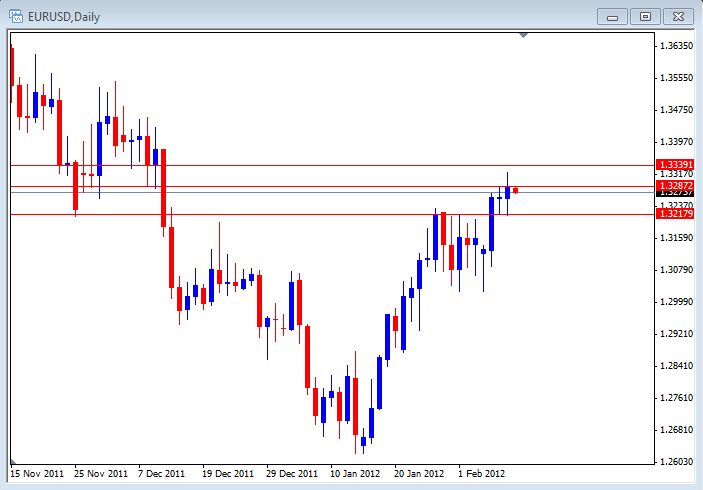 Take care and Happy Trading guys
Chad