EUR/USD, GBP/USD Analysis September 18, 2013
As I suspected the EUR/USD didn't do much of anything yesterday as they prepare for the big news today. Yes more than likely they have an inside source and have at least a good idea of what Ben will do today but I try to be less pessimistic in regards to the Fed and their ability to keep a secret. I could easily be fooling myself but I would rather error on the side of the good rather than the bad.
At this point considering price action alone its in a third push chop scenario with no clear direction and the safest entries will be from the highs Monday or lows Tuesday. Other than that I would expect another rather dull day until Ben starts the announcement. We will probably see some volatility if there are substantial changes to the Feds Economic Outlook released 30 minutes before Ben opens his moth so watch out for that.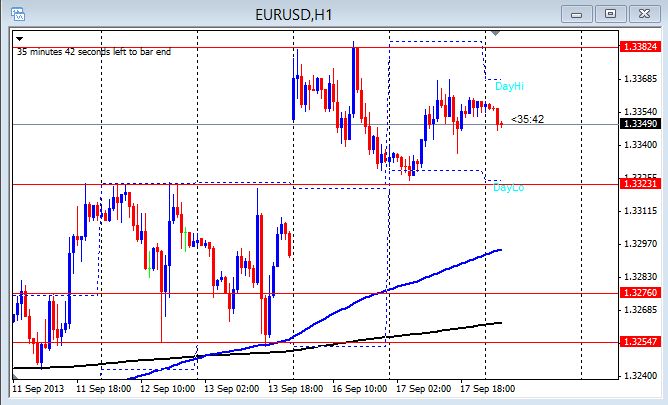 The GBP/USD had a slightly wider range yesterday but produced the same results of no clear direction before the Fed Meeting. I have my doubts this floor is going to hold during the London session but should hold during Asia this morning. Otherwise the same applies here unless we get the break down during Asia. If it does then the probability for the continuation goes up substantially. Otherwise the most likely scenario will be holding around this range until the US session and a quick spike up on the Economic Outlook release before the drop on a taper announcement.
To Learn More About The Secrets of The Mega Banks Check out What is Included in Our Lifetime Membership Here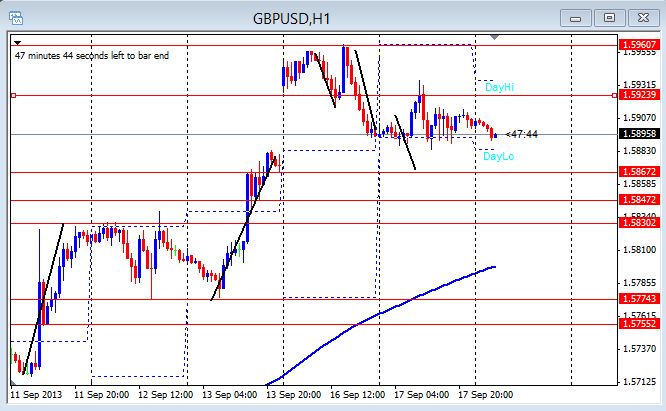 Forex News Today
The only scheduled event we have before the Fed during the US session is the BOE Meeting Minutes. This has potential to run the GBP around a bit before the Fed has its big day but unless there is a big deviation of what they discussed it has a good chance of being ignored. If there was any talk of increasing the Asset Purchases then of course the GBP will weaken. Plus considering the high probability of a taper event it will drop exponentially if there are any hints of more purchases.
To Taper or Not To Taper
This will surely be the burning question today. My thoughts are that they will and have pretty much been told they should by Goldman in recent days. It seems funny I know but history has shown that when Goldman speaks the Fed listens. Well at least suffice it to say since Goldmanites are all over the treasury and Fed how can they not have an inside source even if they are wrong occasionally. I would think they are purposely wrong on those times just to throw the scent of the dogs off that are tracking how manipulated the markets are by the big boys. Oops I let that cynical, pessimistic part of me out again 🙂 You can check the article out here.
Last but not least there is the Fed mouth piece Hilsenrath that says he don't know if they will taper or not but outlines the conundrum faced when they do eventually  slow the purchases leaves me to believe that he was told not to let the cat totally out of the bag since there is probably more confusion on what to do among the ranks at the Fed. Here is his WSJ article.
My crystal ball tells me they will do some dipping their toes and see what the market does. If Goldman expects 10 billion then that is probably pretty accurate give or take a couple billion. It will be the reaction of the markets that dictates how much they add or subtract at a later date and with only a few more meetings left under Bernankes watch before he is predicted to make like a hockey player and get the PUCK out. I expect he will be trying to do some damage control to his legacy of Printer in Chief and do his best to shift the blame on the next Fed Chairman/woman.
Happy Trading
Chad
If you have questions about joining Day Trading Forex Live and becoming an active member please feel free to contact Robin Haywood. He is a current member and has volunteered to answer any questions to give you an idea of what the service involves and support we provide.
You can email him at robindtfl@gmail.com to set up a time for a conversation over the phone if you like or call his US phone line at 702-560-8552 or Skype at RobinHaywood
Do You Enjoy The Daily Forex Commentary? Please Click The Like Buttons, Tweet It, and Google + It Below !!