EUR/USD, GBP/USD, EUR/JPY September 18, 2014 Daily Analysis
EUR/USD
The Euro did make the big move to the downside I was thinking it would yesterday. It wasnt that Janet Yellen surprised the markets much but she did cause the USD strength to kick in substantially. For those who caught the Confirmation Entry at the start of the NY session and held on through the FOMC you did well for sure. That was a nice set up and great move. Personally it was too late in the day for taking the trade so I stayed out. However even if I did take the trade they would have whipped me out at break even before the FOMC anyway. Still a nice trade though 🙂
With such a push it could go either way today making a pullback to force out weak holders or continue on after making a shorter pullback which is what I am thinking but I wont be counting on it and only looking to short. Having said that the levels to short from are more plentiful than longs in a situation like this. The best chance for any longs are either at the overall lows at 1.2834 or yesterdays lows if we get a decent run up with a test during London to 1.2850 which is a riskier trade considering my stop wouldn't be below the lows so it would need to be very pretty. Otherwise the potential for the short from the Asian highs at 1.2865 is good considering we have a 31 pip Asian range already. However they could easily push to 1.2880 or 1.2894 if they create any momentum pushing out traders that are short.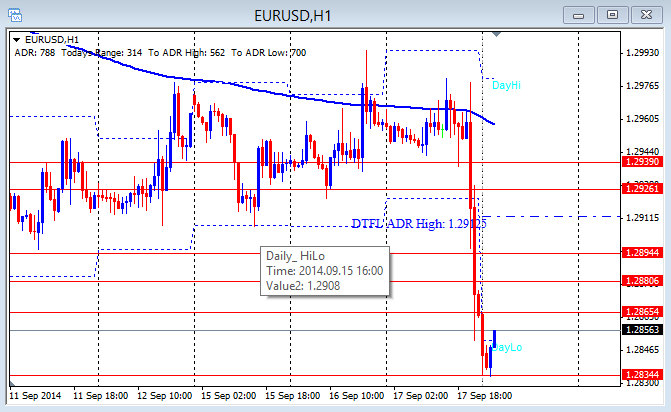 GBP/USD
The GBP has a big day today with the big vote along with some other big data as well. As long as the data is close to expectations it will get ignored but has potential to get things moving before they start taking exit poll numbers and things get a little nuts. In a normal situation I would be looking at yesterdays move as a potential false push up and willing to take the long at 1.6246 during the London session or potential shorts from the Asian highs where the hourly 200 sits or the daily levels above if nothing sets up clear. However I will be more cautious today and want to get my stop to break even if I hold a trade through the vote tally. Otherwise if I am not in a trade with a clear set up I will be looking to potentially trade the exit poll figures depending on how good my news feed is.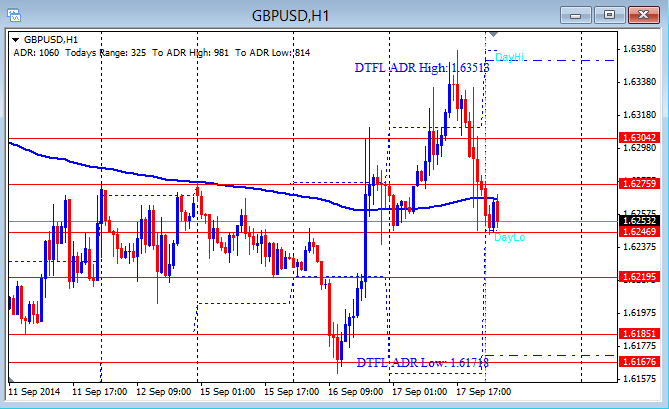 EUR/JPY
The EUR/JPY made the first push up so this will be the pair I prefer to trade today. With the USD/JPY already showing conviction along with the GJ even though its weaker the probability the EJ will go with is pretty high. Since there isnt anything very clear to trade as of yet I will wait and see if they push it up above yesterdays high and look for a backside entry at either 139.33 or just below yesterdays highs at 139.50. Otherwise it will probably run off without me.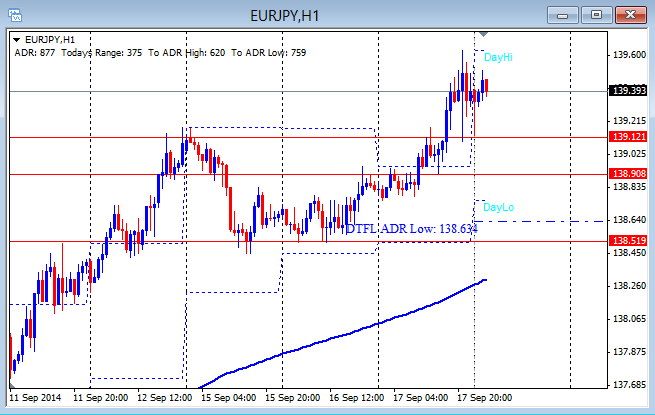 Forex News Today
As I mentioned earlier the news is busy for the GBP today but not so much for the Euro. Starting with Retail Sales expected to improve substantially on the yearly figures. These have a chance to get the GBP moving but as long as they are close then they will likely get ignored and they will wait for the tally of the Scottish vote. The vote will make the GBP move a lot but we will not know which direction until most of the exit pols are in.
The US is also a bit busy with Building Permits, Unemployment Claims, a Janet Yellen speech and the Philly Fed Manufacturing Index. The housing and Unemployment shouldn't do much unless they miss rather large. However if Yellen slips and says anything different than yesterday then we will see a push during the NY session. The Philly Fed has a good chance to either help or hinder a push but with expectations set pretty low it has a better chance of missing to the upside. However I should also point out that they haven't had the expected figures all that accurate for the last several releases and all were expecting lower figures and surprised upward. I would have to say that cant last forever but we will see.
Happy Trading
Chad
To Learn More About The Secrets of The Mega Banks Check out What is Included in Our Lifetime Membership Here
If you have questions about joining Day Trading Forex Live and becoming an active member please feel free to contact Robin Haywood. He is a current member and has volunteered to answer any questions to give you an idea of what the service involves and support we provide. You can email him at robindtfl@gmail.com to set up a time for a conversation over the phone if you like or call his US phone line at 702-560-8552 or Skype at RobinHaywood
Do You Enjoy The Daily Forex Commentary? Please Click The Like Buttons, Tweet It, and Google + It Below !!