EUR/USD, GBP/USD Forex Market Commentary September 28, 2012
IMPORTANT: 

This Saturday September 29th 2012 @ 2:00PM Eastern (New York) We Are Hosting A Live Training Seminar. I apologize to all those who couldn't get into the last seminar we hosted as the room filled up much faster than expected. I have requested a room limit increase for Saturday so I believe we will be ok and I look forward to seeing you all there! Login details are below….
World Clock – http://www.timeanddate.com/worldclock/
Use the world clock to check what time 2:00 PM Eastern (New York) is in your time zone. Please feel free to contact us with any questions, comments, or concerns you might have. I will open the room 1 hour BEFORE the seminar is set to begin.
– – – – – – – – – – – – – – – – – – – – – – – – – – – – – – – – – – – – – – – – – – – – – – – – – – – – – – – – – – – – –
Live Seminar Room Link: http://www.daytradingforexlive.omnovia.com/liveforexroom
Forex Training Room Password: learntotrade
– – – – – – – – – – – – – – – – – – – – – – – – – – – – – – – – – – – – – – – – – – – – – – – – – – – – – – – – – – – – –
As I look at the price action after London closed yesterday I see the plunge protection team was at work yet again. News was all rather terrible as almost all US releases were major disappointments except Unemployment Claims of which could easily be because people are running out of benefits rather than them actually finding work. Having said that I do remember mentioning in the Sept. 27th forex commentary that there could be the possibility for the market thinking Bernanke could up the ante on the MBS purchases but do we really want to go full Zimbabwe? I think we all know how that would end. Not pretty to put it lightly. What a crazy world we are living in these days.
Looking at what we have for today it sure looks like we could have the beginnings of the reversal. With the push above the highs at the end of the Asian session yesterday and daily close pretty close to those highs it shows some conviction. However what does concern me is the fact that the entire push up looks to be done by the plunge protection team. 
Today the bias will be to the upside but I will be keeping in mind that it is the first push and we can trade against those with a clean set up. Right now we are finding resistance at the hourly 200ema that stopped the push up yesterday so the chance for Asia breaking that is low. The best place to be looking for the long will be at the breakout area around 1.2900. The potential short position is a bit more risky at the hourly 200 and yesterdays high since we are already in close proximity to that level. the best entry would be with a nice 1hr stop run above yesterdays high with a nice close below that level of 1.2926. If I dont get one of those scenarios I wont trade the EUR/USD today.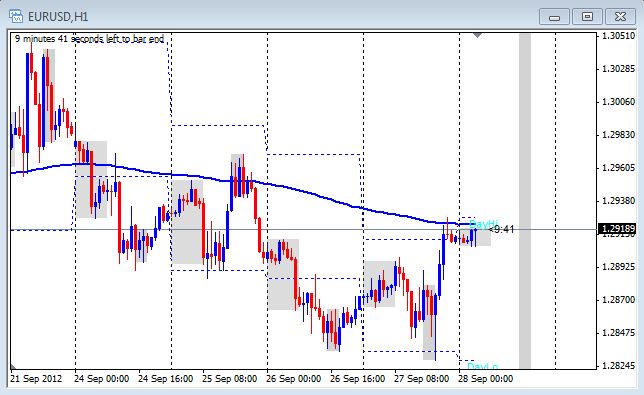 The GBP/USD looks even better for the first push up with the 110 pip move from the lows. Its not a very pretty 3 intraday push but its there. Having said that since we are breaking up higher here during the Asian session on both pairs the next level that has potential for the short is Wednesdays highs for both. 1.6265 for the GBP and 1.2969 for the Euro. Otherwise if we do reach those levels we should find some resistance and the potential for the long during London goes up. At a test of the breakout levels of both previous days highs we have a good chance for the manipulation and will be good places for the long position. I should also mention that we do still have 29 minutes left on these hourly candles so the potential for the 1hr stop run still exists. If that does happen then I will be looking at a test of the highs of the pin during London for the potential short but having a small bias to the long position I will need to see some clear candle patterns.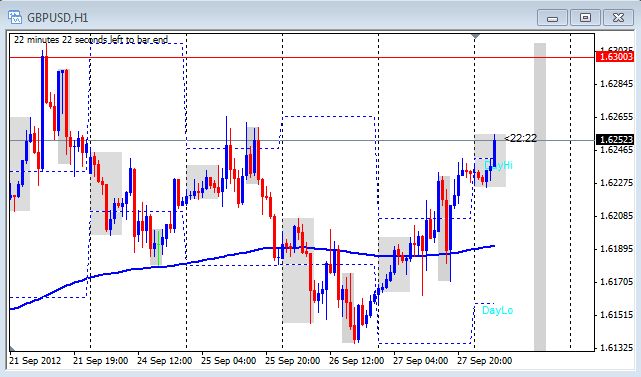 Forex News Today
There are quite a few medium impact events for a Friday so I will cover what i see as the more important of them. Starting with German Retail Sales expected to rise which has potential to be Euro positive. Then the EZ CPI Flash Estimate thats expected to go down slightly. The one that I see has most potential is the release of the Spanish bank stress tests. Of course I expect them to paint a rosy picture but how could anybody actually believe it when they just got a no questions asked 100 billion euro bail out. Seems rather questionable to me.
Later the US has Chicago PMI and University of Michigan Revised Consumer Sentiment and a positive surprise on both of these could create some risk on too.
 Note: We have had the hourly close above yesterdays highs on both pairs mentioned above so the probability for the long trade today has gone up.
Today I leave you with a few quotes from Italys ousted president Berlusconi (who is running in the upcoming election) and what his thoughts are on the Euro and like I have mentioned before in our live forex training room. I thought the best case scenario for a country leaving the Euro would be Germany. The reasoning is that it would buy more time for the broke over spenders to get their act together. The key point here of GETTING THEIR ACT TOGETHER! Somehow I do find it hard to believe that without some serious upheaval that they ever will but it would give them a chance to screw it up again. Of which I would consider to be the most likely outcome. Anyway here are the comical quotes via Zero hedge.
Presented with little comment as the populist media mogul steps back into the European political landscape with these little beauties:
*BERLUSCONI SAYS EURO A `SCAM' WITHOUT CENTRAL BANK BACKING IT
*BERLUSCONI SAYS GERMANY LEAVING EURO WOULDN'T BE A TRAGEDY
*BERLUSCONI: BAILOUT CONDITIONS WOULD LEAD ECONOMY TO COLLAPSE
*BERLUSCONI SAYS ITALY RISKS HEADING TOWARD 'ENDLESS CRISIS'
It appears he has a new plan then – Allow Germany to leave; and let the rest of the broke insolvent European countries print themselves to socialist utopia. Vote Bunga…
Have a great weekend all
Chad
Forex Course & Lifetime Forum Access – Lifetime Membership to the Forex Bank Trading Course, Forex Forum, Nightly Video Training, Live Weekly Training session, and Lifetime Member Support– Click Here For More Information
Do You Enjoy The Daily Forex Commentary? Please Click The Like Buttons  & Tweet It !!