Failed Day Trade On The GBP/USD Short 13/04/2011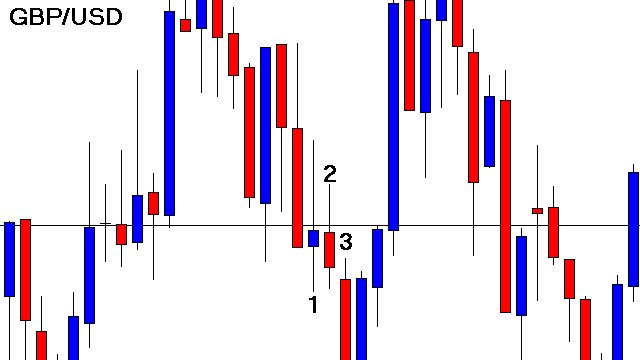 Here we have a good example of a nice intra-trend continuation day trade. The GBP/USD had been channeling for a few hours going into this trade. Normally I don't like to take a day trade in a channel due to the fact that there is never much to be made. However this channel was +50 or more, therefore allowing plenty of room to take profit.
As I said earlier this was what I call a intra-trend reversal candle. The market had already started its move down and this Fx day trade setup was not coming off of resistance or support, rather it was simply continuing the move down. Candle number one was the reversal candle. Anytime I take a trade in an already established move the first setup candle must be a reversal candle (shooting star or hammer formation). This is a requirement because I want to see the market try to push against the already established short term move and then get rejected. As you can see candle #1 makes a move up trying to work higher only to get rejected down.
Candle number 2 is your standard confirmation candle. Again in the case of a short position the confirmation candle only has to close below the body of the reversal candle. Candle #2 did that very clearly. Once these two candles closed we now knew the direction we wanted to take, and when candle number three made a pull back close to the body of the reversal candle (candle #1) we took the entry short on the GBP/USD. This trade gave up about 20 pips at one point only to turn around and close us out for -20 pips. I got a bit greedy on this one in hindsight. Given the momentum of candle #3 and the hugely bearish candle close I expected to see it run through the lows. Additionally the 4H chart was looking bearish as well, and had setup as a shooting star formation off a short term high.
All in all we took 3 trades today and I had 3 loser. Fortunately the other 2 trades were only -8 pips each. One was on the USD/JPY right after US Retail Sales. The number came out pretty close to expectations, however the revision to the previous month was enough to warrant a long position. It went in out direction about +10 pips but after a failed test of the highs we decided to get out.
All in all today was down -35 pips and was the first losing day of the week. Overall still having a great week and sitting right now around +4% for the week. Today however was a great example of why I preach sound money management. I don't care how successfully a trader is, you will have loses from time to time and I'm no exception. The key is monthly profit, and this should be the judge of success. Every month this year we have been profitable (knock on wood) and I attribute this in a big way to using solid money management principals. By risking a safe amount per trade no one trade is going to make or break you, and thus you tend to trade more based of facts rather than emotions. Check out the article entitled Money Managment – A Day Traders Key To Success. In that article I go over my money management principals and hopefully they can help you become a successful forex trader!