Fed More Hawkish Than Expected – FX Trading Forecast 4/28/2016
EUR/USD Ends Where It Started
One of the things I talked about with the EUR/USD was the higher bias to the downside that I had. Today we never had a chance to get a day trade setup short, and overall it really wouldn't have mattered as the market moved sideways the majority of the day. Many times, ahead of major data the market will be very tame and anti-committal. Going into today I still have a strong bias down on both of these pairs for the short term, but bias is not a reason to take a trade and we still need to see a valid stop run of a pre-selected manipulation point to trigger a trade. At this point our first upper manipulation point is actually break during the Asian when means we will not be able to take a short from it. We could form a new level from around this area, or we could get a backside long from this point if we continue breaking through it. Like always time will tell. Officially we have one upper manipulation point in place and at this time I do not have a valid lower manipulation point within the ADR from which I would be looking to trade. 
Want to learn the bank trading strategy, join our live training room, access live member chat, as well as lifetime support? Join Us Here
Pound Begins To Fade South
As we mentioned yesterday, the short term reversal down on the GBP/USD was the higher probability and that is indeed what we got today. Although the Pound had a much wider range than the Euro we still never officially made contact with an upper level from which a trade short could have been considered. At this point I still carry a stronger bias for further downside today but yesterday's news makes the bias much more questionable. Like the EUR/USD the lower levels are limited and in fact today I do not have any listed for either pair. I'm a firm believer in quality over quantity, and I would much rather have less trades from better levels. Becoming and staying a successful forex trader requires the discipline to take only the best trades which can mean the patience to let mediocre levels pass. Today, the only lower levels I considered would have been rather weak and therefore better to let them go. Officially we have 2 upper manipulation points from which I would take any valid stop run from.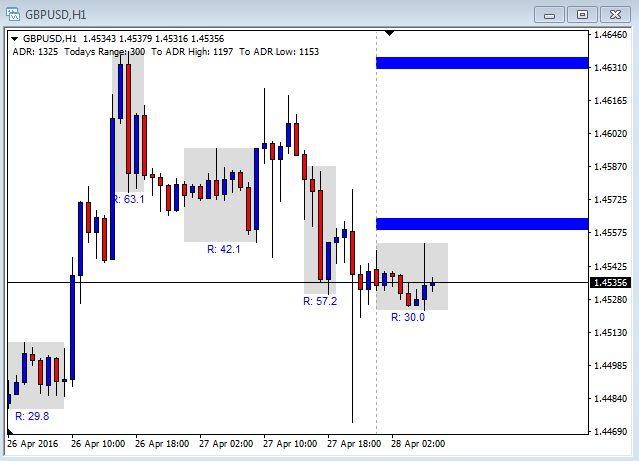 Forex Market News For April 28th 2016
US GDP q/q 8:30 AM Eastern: US GDP is a big market mover like UK GDP. We have been seeing a very strong reversal in GDP after the release which is much the same as the UK GDP from yesterday. In fact, the last release didn't even spike in the direction it should and it just ran against the release. This month .7% is the expected number.
-Sterling