Forex Commentary EUR/USD, GBP/USD July 13, 2012
We have been pushing extended levels in the EUR/USD all week now and have a better chance for the reversal considering it did come within 15 pips of the daily support level around 1.2150. Considering this I will still only be willing to take the long with a clear stop run to yesterdays low. Otherwise if we do see the early manipulation to the upside for a decent stop run into yesterdays highs I will be happy to short from there. having said that we do have the chance of the break out from Wednesdays lows that may hold it too so thats where I will start looking for the trap move to the upside but will be happier with it ocuring around yesterdays highs.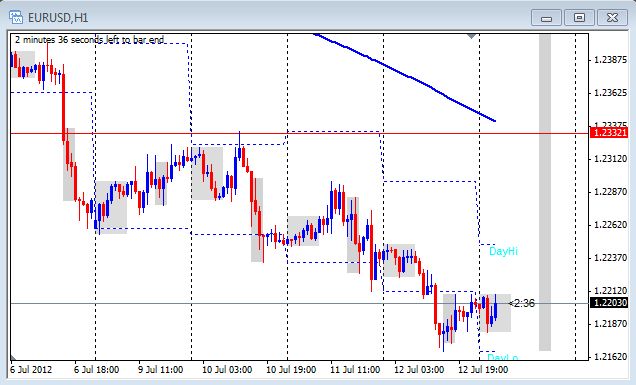 The GBP/USD has completed the second push intraday and made the first weekly push from the 3rd push chop so we have a much stronger bias to the downside on this pair today. The first place I will be looking for the manipulation at will be the daily resistance around the 1.5453 area which is just below the break out area on the hourly chart around 1.5467 and is where the 15min 200ema is sitting. Right now its fighting with the consolidation from yesterday before the second drop it made. If it cant break through that area during Asia we may only get a stop run above the Asian highs during London so I will be keeping an eye out for trap candle patterns occurring during the Asian session to give me any clues that we wont get more effort to the upside during London.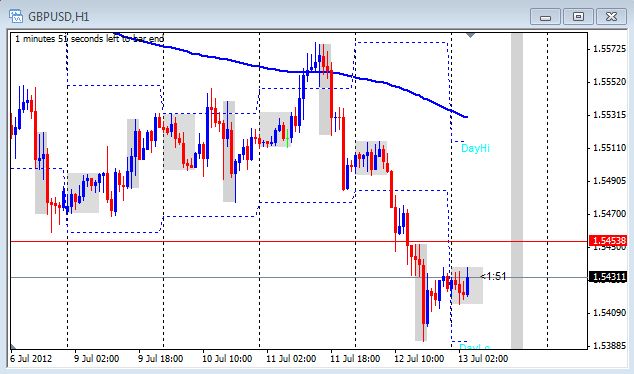 Forex News Today
Scheduled releases are light but there are a few that could be chances for the smart money to manipulate. Starting with an Italian 10yr Bond Auction. If this goes bad and Italian spreads start to rise substantially then the Euro will be hit pretty hard the way I see it. If it goes well then I doubt it will be that positive for the Euro but may hold it up while the EUR/GBP rises.
later the US has its  PPI m/m expected to be down again but not quite as much as last month. A surprise drop may give light to more QE but my thoughts these days are that investors have almost given up on it in the near term so there will be a chance for manipulation but I have my doubts it will last long. A couple hours later there is Prelim UoM Consumer Sentiment. This has more potential to surprise as last months figures have been revised lower than what is expected today but like the PPI figures really should throw the green light on more QE at present time.
I will give you all a break on my rants today and just wish everybody a happy Friday the 13th.
Have a great weekend
Chad
If you would like more information on how to trade with the banks please view our forex bank trading course & forex forum description.
Do You Enjoy The Daily Forex Commentary? Please Click The Like Buttons Below & Tweet It !!