Forex Daily Analysis November 30, 2102 EUR/USD, GBP/USD
Yesterdays price action in the EUR/USD closely mimicked Wednesdays movement except in the opposite direction. I bet there are many traders out there like myself that just want them to make up their mind! We have 2 pushes to the upside with a hard core rejection down on the daily chart. As I look at the daily chart there is something we should all be aware of, that is we are on the last day of the month in addition to being at the monthly highs for November. What this means is that there could be some end of month flows today and therefore the likelihood of a break to the upside is small. Because of that I do have a small bias for the short today, but I will be keeping my mind open and letting the manipulation at the key levels decide the direction.
The best place to take the short will be a test and trap at yesterdays highs of 1.3010. There is also a possibility for the stop run above 1.3020 which was a key daily reversal level in October. Otherwise I will be considering the long with a test of Wednesdays highs at 1.2953 or just below at the support level of 1.2943 where the Euro found support just before London closed today.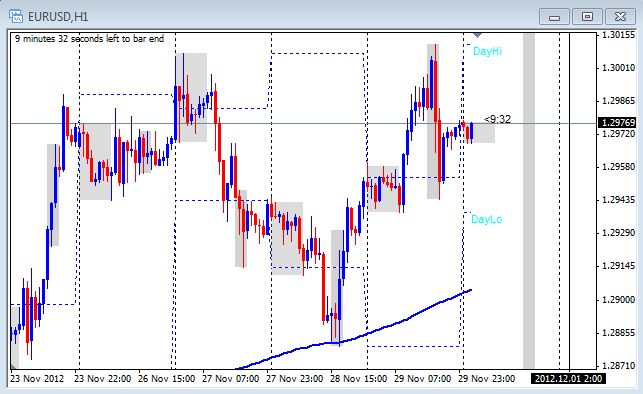 To Learn More About Our Advanced Bank Trading Forex Course, Daily Market Reviews, Live Forex Training Room, and Members Forex Forum Please View Our Day Trading Course Description Here…
The GBP/USD has similar price action. However with the EUR/GBP was rather indecisive on the day. It did manage to close closer to its highs even though it was just a 46 range on the day. Considering month end flows on this pair it has a better chance of making a break to the upside if the risk appetite conditions continue. The first place I will be looking for the trap and a long position will be Wednesdays highs of 1.6022. We all know how much the GBP likes the 80 and 20 levels so this will be  an optimal price for the manipulation and push back to the upside. The only thing that has been holding it down is the daily 800EMA for several days now. With the daily pin to the upside Wednesday it seems as though they are ready for a break of it.
Since we are still in a third push chop scenario we can't disregard the potential for the short at the daily highs here. If that does setup I would feel most comfortable taking the hourly stop run to the highs from Tuesday at 1.6054.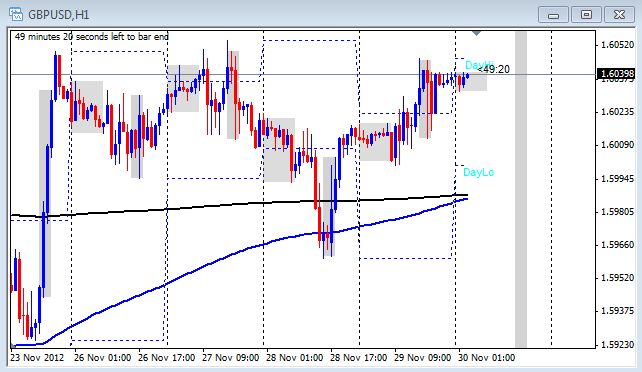 Forex News Today
Our news calendar looks to be rather busy but its mostly medium impact news that the market hasn't been reacting much to lately. We do have a Mario Draghi Speech just as London opens so that should make things interesting to say the least. About an hour before he speaks there is German Retail Sales that has some potential for a little manipulation before Draghi comes out with his Euro typical pump so I will be keeping an eye on that.
The only one during the US session that may have some impact is the Chicago PMI figures expected to be better than last release and pop above the 50 expansion level. A disappointment here will be USD negative but if it does come out as expected or better that we could see more risk appetite and again be USD negative.
A little Friday Humor
As I was looking through my news sources last night I came across a couple articles that I thought were worth sharing. The first is an excerpt from one that explains my thoughts on market moves lately. Giving an explanation of how the new, new normal market conditions are comparable to a schizophrenic child.
The other was a rare glimpse of JC Junker getting caught in truth telling moment that I am sure will be running around the internet like his last "you just have to lie" statement. I'm just doing my part to help.
A Market Only A Mother Could Love
We have again reached a point where attempting to explain away an utterly irrational market, in which sentiment and momentum shifts on a dime overriding any fundamental news flow, and summarizing overnight catalysts has become a moot point. With stocks acting and reacting like petulant, schizophrenic children with ADHD, fundamentals are totally meaningless: yesterday and the overnight trading session have become perfect examples as prepared bulletins by two politicians, which said absolutely nothing of significance or constructive – have been enough to override 72 hours worth of actual fundamental deteriorating data, and also offset each other. Will Congress resolve the Fiscal cliff in its 10 remaining days in session without a major impetus to move such as a market plunge? Of course not, but once again the question has become one of who sells first, and the momentum piles on – and if there is no downside momentum, there are no volume ramps. In the meantime all the sellside firms have gone uber bullish on 2013, setting up the Fiscal Cliff as a perfect strawman. Of course the "Cliff" will be surmounted eventually, and after some near-term pain, but the reality is that the resulting rising taxes across the world in 2013 will be a major economic headwind, just the opposite of what the sellside crew is saying as one after another strategists push out optimistic outlooks on the next year to sucker in what little remaining retail interest in the farce formerly known as the market may be left.
Cashin Catches Juncker In Rare Truth-Telling Act, Confirming Everything Is A Lie
Europe's Jean-Claude Juncker is best known for being the pathological liar head of the Eurozone. And who can possibly forget his immortal line, which he uttered after getting caught with a bold faced lie about the stability of the failed European project, that "when it get serious, you have to lie", which he later explained with the even more insane, "My main concern is to protect people from detriment. That's why I feel practically compelled to make sure that no dangerous rumors begin to circulate. I'm certainly not going to go to confession because of a false denial. God understands more about the financial markets than many who write about them." Well, for once it is Juncker who made the horrible mistake of actually telling the truth. And none other than the Chairman of the Fermentation Committee Art Cashin was there to memorialize it:
From UBS 
One Sentence Perfectly Describes The Quandary On Three Continents – The ultimate award for candor and honesty must go to Jean-Claude Junker (Prime Minister of Luxembourg) who apparently said – "We all know what to do, we just don't know how to get re-elected after we have done it." That say's it all.
You just cant make this stuff up. To quote a Frenchman at the beginning of the French revolution. "OFF WITH THEIR HEADS!"
Have a great weekend
Chad
Do You Enjoy The Daily Forex Commentary? Please Click The Like Buttons, Tweet It, and Google + It Below !!