Forex Daily Commentary EUR/USD, GBP/USD September 14, 2012
Well Ben sure did it didnt he? He stepped into this one big time. Announcing an open ended money printing fest that is sure to take the US down the tube into the next level of hell. I sure hope everybody in the US has purchased a wheel barrow because its not going to be long until you need it to carry the cash it takes to buy a loaf of bread. Of course I could be wrong as I was about him starting up the printing this early but every other example in history shows once a country jumps on that slippery slope there is no where to go but down. Not to mention that Obamas chances of reelection just went down substantially. I suppose thats a good thing but I have to admit that Romney wont be any better at telling the American people "its time for some pain or things are going to get much worse". Of course thats what should have been done at the onset of this crisis but politicians dont go into politics to actually help the people. They do it for them self, to enrich them self and make life long connections that will keep on providing that enrichment for the rest of their lives. There are exceptions but they are few and far between and usually dont last very long in politics. The US is in for a big slap in the face and even though I feel for my family back there TPTB have had this coming for a long time. Things are about to get interesting in the next year or less.
On To The Charts 
The EUR/USD has made the third push up I talked about in the Sept.13 forex commentary however I expected the push during the London session and then the disappointment from Ben Bernanke which happened exactly the opposite. With this open ended QE at hand I have my doubts we will see a reversal here. It is possible that we see some week end flows and get a possible 50 pip drop or so but I am not holding my breath and would be much happier with the long position. If we do see the break of yesterdays highs I will consider the long at the bottom of the Asian range or possibly yesterdays highs but there will need to be a clear trap. I will only consider a short if this high holds and we see a clear 1 hour stop run to the highs.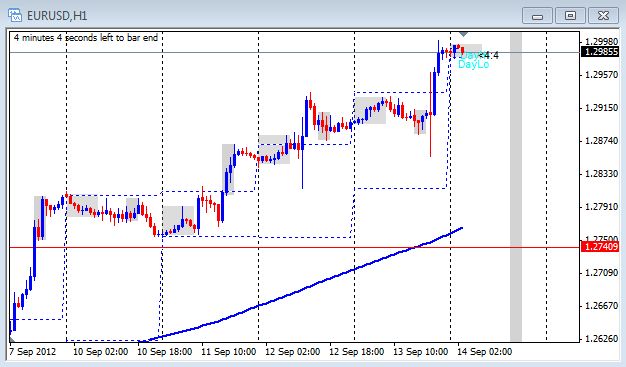 The GBP/USD has had similar price action due to Ben and has made a third push up the move was a little subdued because of the EUR/GBP getting a boost but still a valid move up. the daily chart doesn't have much for resistance until around the 1.6300 level so I expect it will get there considering the USD is in a downward spiral. The best place to see the manipulation for the long will be at yesterdays highs if we get the break or at the Asian lows if we dont.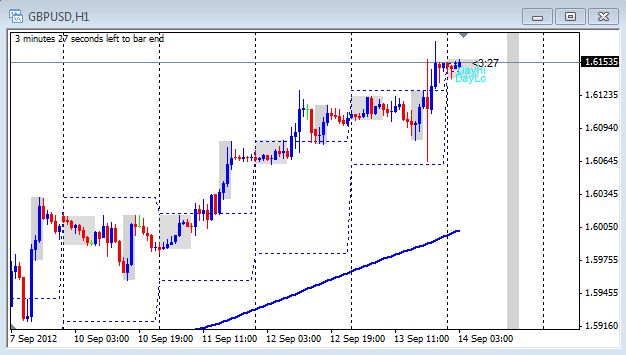 Forex News Today
News starts of today with CPI and Core CPI figures from the Euro Zone. Expectations are to remain the same as last month and I dont see any reason for a deviation.  If we do get a surprise to the upside then Germany get stiffer on the ECB but I have my doubts. We also have the ECOFIN Meetings all day so we can expect some Euro pump from Spain or Italy and possible negative statements from the northern bloc.
The US has Core CPI, Core Retail Sales, Retail Sales and Prelim UoM Consumer Sentiment being the more important events to watch. I dont think the CPI figures will be much of a surprise as it will take time for the 40 billion per month to hit the inflation figures. the bigger ones will be the Retail Sales figures. Any surprise drop and it will show the US is indeed in a bigger slow down and will be USD negative even though Ben has made his last stand and it may be short lived. The Consumer Sentiment is important as the US being a consumer driven economy how the consumer feels is very important to any recovery. A surprise to the downside here will be USD negative also.
Lets Hear What Ron Paul Has To Say
Here is an excerpt from an interview that Ron Paul did with Bloomberg not long after Ben made his announcement. I couldnt agree more.
"It should not surprise anybody, but it is still astounding. To me, it is so astounding that it does not collapse the markets. [Bernanke] said, 'We are in very big trouble. We are going to do something unprecedented and we believe it will not hurt the dollar.'  And yet the stocks, they say 'we love this stuff.' But the dollar didn't do so well today and the real value of the dollar is measured against gold, and gold skyrocketed from its very low to its highest. It means we are weakening the dollar. We are trying to liquidate our debt through inflation. The consequence of what the Fed is doing is a lot more than just CPI. It has to do with malinvestment and people doing the wrong things at the wrong time. Believe me, there is plenty of that. The one thing that Bernanke has not achieved and it frustrates him, I can tell—is he gets no economic growth. He doesn't do anything with the unemployment numbers. I think the country should have panicked over what the Fed is saying that we have lost control and the only thing we have left is massively creating new money out of thin air, which has not worked before, and is not going to work this time."
Does it sound like Ben is out of bullets and is now throwing in the kitchen sink? 🙂
Have a great weekend
Chad
Forex Course & Lifetime Forum Access – Lifetime Membership to the Forex Bank Trading Course, Forex Forum, Nightly Video Training, Live Weekly Training session, and Lifetime Member Support– Click Here For More Information
Do You Enjoy The Daily Forex Commentary? Please Click The Like Buttons  & Tweet It !!