Forex Daily EUR/USD, GBP/USD Commentary July 20, 2012
While the EUR/USD did as we expected in yesterdays Forex commentary the GBP/USD did not thanks to the weakness in the EUR/GBP. Good job to those members who did catch the Euro short. It didnt give me the entry I liked and I unfortunately took the GBP/USD expecting the USD strength to prevail and it didnt. Oh well on to the next trade.
As for today we have the EUR/USD that has held the topping formation yet again and now looks to be poised to break down out of this triangle pattern its been forming over the last several days. We must keep in mind that we are still in the 3rd push chop area so I wont rule out a long position but my bias is to the downside. I will start looking for the manipulation at the Asian range high and then the hourly 200ema which coincides with the high produced during the US session after London closed yesterday for the short today. The only way I will feel confident in a long will be with some solid confluence with a clear trap move at yesterdays lows.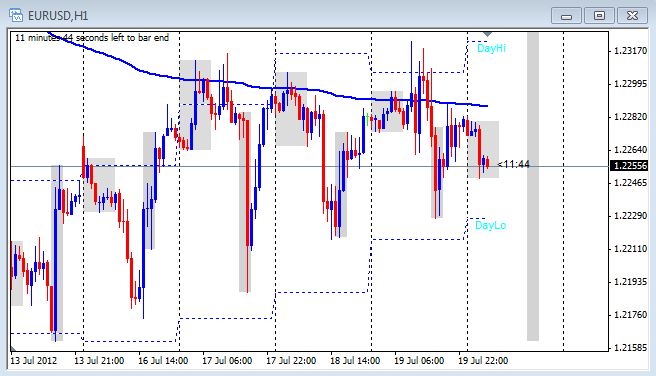 The GBP/USD has made the first push to the upside so we should be seeing the second today but I am keeping my options open here also. This is an extended push off of the last rise we saw last week and has the potential to be the false push. I dont want to let the price action on the Euro effect my bias and the higher probability is for the second push up. However I will be looking for clear manipulation at the highs for a short and would like to see a deeper pullback for any long position. The break out level around 1.5670 will be a good place to start looking for any trapping formations for a long or a stop run reversal trade set up above yesterdays highs at 1.5736 will be where I start looking for a short.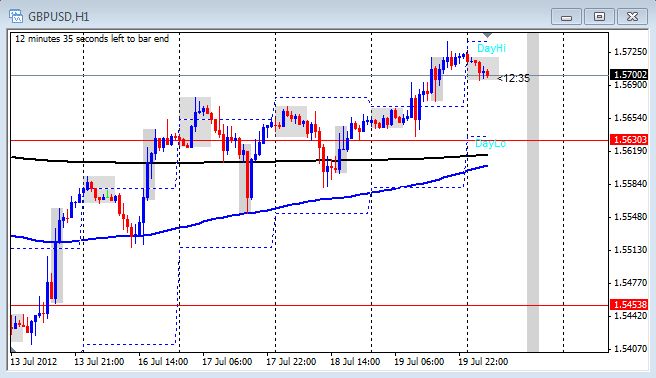 Forex News Today
Scheduled releases are almost nil today starting with German PPI figures. I expect this will take a back seat to the Eurogroup Meetings going on all day. Of course we will see the typical "we have it all sorted now" crap and there will be some volatility but the fundamentals havent changed one bit and if yesterday is any example of how things will play out any optimistic views wont last long. For example the ESM gained enough votes to pass in German parliament  yesterday along with other tweeks to the Spanish bail out setting aside money to buy Spanish bonds. All just window dressing for a house burning up in flames if you ask me but thats just me.
The UK has Public Sector Net Borrowing which does have potential to create some movement. If the last release is anything to go by it wont be the headline figures that impress but the lower figures if there is a large enough deviation. I dont expect too much but its possible.
A US Revolution? Your Kidding right?
Not really. To be honest I have been thinking this for some time as the only means we have to set things straight in America. Anyone who reads this commentary knows I will be the first to build the Guillotine for the well deserved payback that should serve as a deterrence for the ones who might think they can get away with this sort of malaise in the future.
When Ron Paul was ousted from the Presidential race I lost all hope for any real political or legal solutions to the mess the US is in. What gets me thinking on the subject is an article I read this morning and of course my own thoughts over the past several years. I also remembered when I was young during the late 70s and hearing my own mother talking about revolution and how close she thought the American people were rather close at the time. This coming from the woman who always taught me not to instigate a fight and walk away from trouble if you can (Quoting Kenny Rodgers haha) told me that there was something serious brewing with how the people were unhappy with what was going on with the government and economy at the time. Then along came Ronnie Regan and his trickle down theory, deregulation and every thing got better. Or at least they looked to get better for a number of years while actually in the background making things worse for generations down the road allowing the rich and powerful to get more rich and more powerful to the extent of what we see today with them thinking they are above the law because the system needs them to operate. The fact is at the present time they are above the law. We can see this by just looking at how many of these guys have gone to jail for the fraud they have perpetuated on the public.
Thinking back of just how bad it had to be for my mother to be thinking such things and comparing it to what we have today. We are in a situation that is at least 10 times worse if that isnt an understatement.
There is still some hope and if heads do start to roll and a large majority of the guys who did this to us lose everything they have and spend some serious years in jail then we may get out of this with out any violence but they way these guys have been covering each other for so long it does seem unlikely at this point. Here is an excerpt from the article that got me stewing this morning. Well worth reading the full text here.
The subject of revolution is a touchy one.  It's not a word that should be thrown around lightly, and when it is uttered at all, it elicits a chaotic jumble of opinions and debates from know-it-alls the world over.  The "R" word has been persona non grata for quite some time in America, and until recently, was met with jeers and knee-jerk belligerence.  However, let's face it; today, the idea is not so far fetched.  We have a global banking system that is feeding like a tapeworm in the stagnant guts of our economy.  We suffer an election system so fraudulent BOTH sides of the political spectrum now represent a hyper-rich minority while the rest of us are simply expected to play along and enjoy the illusion of choice.  We have a judicial body that has gone out of its way to whittle down our civil liberties and to marginalize our Constitution as some kind of "outdated relic".  We have an executive branch that issues special orders like monarchical edicts every month, each new order even more invasive and oppressive than the last.  And, we have an establishment system that now believes it has the right to surveil the citizenry en masse and on the slightest whim without any consideration for 4th Amendment protections. Unless tomorrow brings a miraculous shift in current totalitarian trends, revolution may be all we have left…
Have a great weekend
Chad
If you would like more information on how to trade with the banks please view our forex bank trading course & forex forum description.
Do You Enjoy The Daily Forex Commentary? Please Click The Like Buttons Below & Tweet It !!