Forex Day Trading Commentary EUR/USD, GBP/USD April 13, 2012
Again leave it to the ECB to hint at buying sovereign bonds again and crush my plan for the day. Then later on a couple of Fed members speaking like I mentioned yesterday and bad unemployment numbers to boot. Now we have a slight risk on scenario playing out as the chance for QE3 sooner has arrived. I had a nice day trade go 40 pips my direction and come back to hit me break even. It was funny because I was mentioning to a member that I would just take the 50 pips if offered but got railroaded by the comments from an ECB member.
At this point things are a bit clearer and as long as the market continues to believe QE3 is on the way then we will see more of the risk on trade playing out. I should also mention the the ECB had one of their members hint at more bond purchases so now we have a bias to the upside that agrees with a 1st push out of the nasty chop we have seen over the last several days on the Euro and Pound.
Right now I will be looking for the manipulation to the down side during the London Session for the long but keeping in mind that this is the first clear push. Unless we get a clean run north after the entry I wont be looking for a long run up.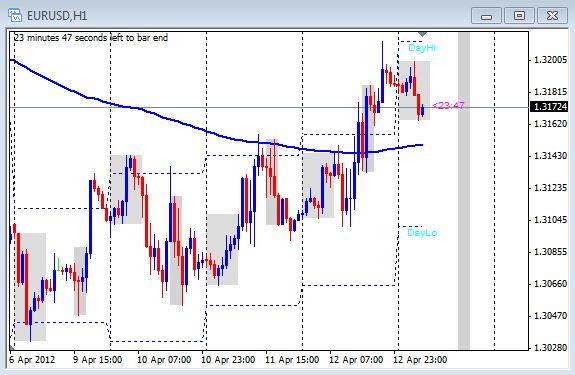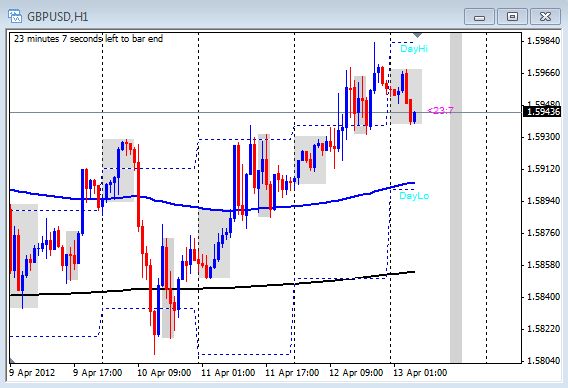 In the news
This morning China released their GDP figures with a big disappointment so this adds to the probability of them lowering their reserve requirements again essentially (more easing) so every Central bank around the world is printing money more or less so this will most likely add to the risk appetite depending on just how fooled investors are but keep in mind that each round of QE from anywhere has had less and less effect on risk so this could be very short lived indeed.
From the EZ today there is only German Final CPI and  Italian Industrial Production which are both low impact events but there is the UK PPI data which could be a market mover but I expect it will be just another chance for manipulation before the main move for the day. Then dovie  Dudley is speaking again and will most likely have something to add to the bad unemployment numbers from yesterday and push for more printing. Then from the US the CPI figures come out and are expected to drop which if that is true will add to the probability of QE sooner rather than later and later Consumer Sentiment that has been improving but slightly. Everything seems to be adding up for the risk on day.
As I looked through my news sources today I did find an entertaining video of Rick Santelli. I have to say I like his no BS approach to things. I cant say I always agree with him but he pulls no punches and you have to respect him for that. In the video below I was thinking his head just might spin around like he was possessed by a demon LOL
Happy trading guys and be careful out there
Chad
_______________________________________________________________
Forex Course & Lifetime Forum Access – Lifetime Membership to the Forex Bank Trading Course, Forex Forum, Nightly Video Training, Live Weekly Training session, and Lifetime Member Support at a special April Discount – Click Here For More Information
_______________________________________________________________
Do You Enjoy The Daily Forex Commentary? Please Click The Like Buttons Below & Tweet It !!