Forex Day Trading Confirmation Entry – EUR/USD 18/05/2011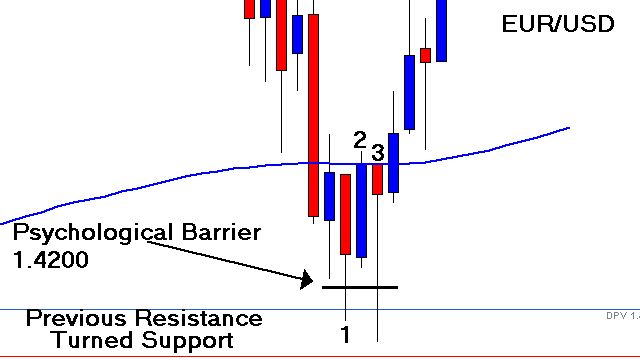 Today turned out to be a pretty decent trading day in the forex trading room despite the large run coming into our trading session. There was a confirmation entry to go long on the GBP/USD right around 8AM EST this morning that we took in addition to the day trade shown above. This trade ended up coming down a bit more and stopped us out at -20 pips. Overall it was a quality day trading setup that simply did not have any follow through. In your spare time give that trade a look.
The second day trading opportunity wasen't long after the GBP/USD trade, and it was a long position as well but on the EUR/USD. This support level was very strong because of 4 points all coming together around the same level.
1.) It was a psychological support round number which was 1.4200
2.) The 61.8% retracement of the move up from yesterday.
3.) The daily pivot.
4.) This level was an already proven level of resistance from yesterday. And as always resistance when broken will become support more often than not.
The more reasons you have supporting where the market is turning the better, and with this example we had 4 great reasons this level was going to hold. When the market came into this support level we were looking for it to touch it and then close above it. This is exactly what happened, thus giving us a nice reversal candle (candle #1). After you have a reversal candle off of support you then look for the confirmation candle. In the case of a long setup the confirmation candle must close above the body of the reversal candle, and candle #2 clearly meet that requirement. The first 2 candles tell you that the market is indeed not just going to stall, but in fact has a high probability of bouncing up off this level.
After those 2 candles formed, we then look for the entry on the third candle. The rules for entry on the third candlestick are really quite simple. When the forex market pulls back into the body of the reversal candle, that is where you take the entry long according to the rules of this forex trading strategy. We bought the EUR/USD at 1.4204 and closed this position out at 1.4254 for a +50 pip profit. Overall for the day, including the first day trade, we took +30 pips total. See you all for tomorrow's recent trade update!