Forex Day Trading Room 23/09/2011 EUR/CHF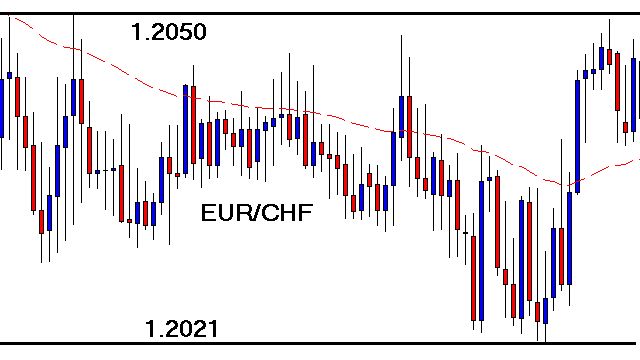 Well I'm finally getting over being sick so I thought I would do a recap of the day trades taken in the forex day trading room this week. Overall we had quite a boring week as far as the NY session is concerned. That being said London was very productive and profitable which was nice! The highlight day trade of the week was the EUR/CHF. As I put in the last recent trade update the SNB pegged the EUR/CHF to 1.2000 a few weeks back. After this the EUR/CHF was channeling between roughly 1.2020 and 1.2050 Knowing this level we put a OCO (one cancels other) order in the market as I talked about previously. It missed triggering us in at 1.2020 by roughly the spread, and then went to fill us long at our pending order of 1.2055
This trade took over a week to finally close out. Overall we took +125 pips off this trade. It was half the position size we normally take and therefore it is only counted officially as a +62 pip trade. Not a bad day trade, but it could have been a bit better. There was a "tape bomb" that hit the wire Friday which caused a brief spike towards USD weakness. This caused the USD/CHF to spike down, which in turn caused the EUR/CHF to spike down and hit our stop of +125 pips. Hopefully we will see a deeper pullback this coming up week for another chance at this position. With rumors of the SNB pegging the EUR/CHF to 1.2500 this could still have some legs left in it….time will tell. Overall for the week we were up around 20 pips. There were 2 losing trades towards the end of the week which gave back a bit of the EUR/CHF but over in the green.
Another key point worth mentioning is Silver. Silver has pulled off its highs of $48/Oz roughly to now just under $31/Oz. Has the US economy taken a dramatic turn to the upside that I didn't notice? Is the unemployment rate declining swiftly on the back of huge economic growth? Is anything better in the world economy? If your watching the same economic news I do then you know things seem to be at the precipice. With all the uncertainty why the sudden weakness in the only tangible/real "currency"….that of precious metals?
If you have not thought about owning physical gold and silver in the past this might be a great oppertunity. I personally perfer Silver. As of last Friday the market hit the 61.8% retracement of the last large move to the upside. A daily close below the $30 an ounce would signal a much larger unwinding of Silver. Personally I'm adding 25% of my total silver investment come Monday. I will keep you guys updated as time progresses.
If you'd like to learn our forex trading strategies and gain a forex education in real time then check out our live forex training room below. I look forward to next week, and I will see everyone for trading on Monday!
Forex Course & Lifetime Forum Access – Lifetime Membership to the Forex Bank Trading Course, Forex Forum, Nightly Video Training, Live Weekly Training session, and Lifetime Member Support at a special March Discount – Click Here For More Information