Forex EUR/USD, GBP/USD Daily commentary September 27, 2012
Today we are looking at the EUR/USD finding support at the daily 200ema. I remember mentioning to a member last week that I expected the next heavy support level at that and I did manage to close my short from Tuesday night for over 90 pips when it was making the bounce yesterday afternoon. As for how far this bounce will go is a diferent story though. Right now we are seeing the test of Tuesdays low at proven resistance it found yesterday also. This could be all we see for the bounce. I actually would prefer a pullback to yesterdays highs at least to be convinced of any break of the daily 200ema. However something a member in our skype group pointed out yesterday was that the EUR/USD hasnt been above the daily 200 for the better part of a year and the last time it closed above it price only stayed above for 2 days. Given the fact that price has been above it for the better part of this month we should expect a bit more support.  
Now that we have whats going on with the daily chart out of the way. Today I am still having a small bias for the short but we have to keep in mind that the reversal could come at any time considering the extended pushes we are seeing so a long from yesterdays lows around the daily 200 is still a good entry with the right manipulation seen. If we do get the push up during the London session I will be first looking for the manipulation at yesterdays highs or the hourly 200ema just above that. There is also the psych level of 1.2900 I will be watching as it lines up pretty good with the break out level yesterday. As for any long potential the only place I will consider that is yesterdays lows around the daily 200ema at 1.2853.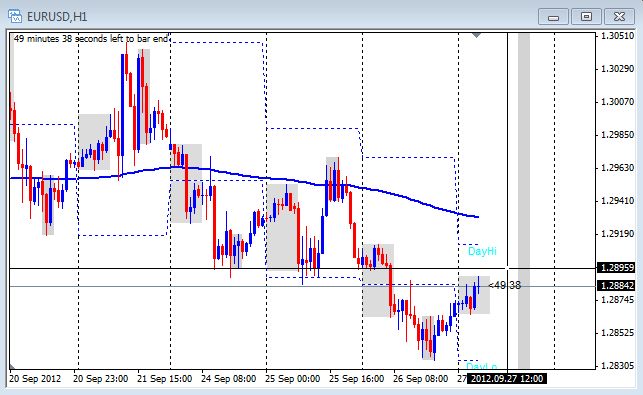 The GBP/USD is trading in similar fashion but we are still seeing that the GBP is the stronger currency between it and the Euro. When I look at the daily chart and see the close yesterday above the daily low from September 20th it does tell me that the conviction for lower prices is fading or at least they are not quite ready for it to drop like they are the Euro. What this means for us is that long positions will have more potential on this pair than the EUR/USD and I do know that a few members made some nice pips on the long during London yesterday. Good job guys 🙂
As for potential clarity on the pushes we have seen I have to say over the last 2 days we have 2 pushes to the downside  with the hourly closes below daily support levels. this gives me a small bias for the short but since longer term pushes are not so clear I wont be treating this as a second push scenario and it be the highest probability for the short today. We have already seen a deeper pullback after the New York reversal yesterday so my thoughts are that we have a good chance of seeing yesterdays highs during London today. Of which is where I will be looking for the manipulation to short from. Another point of interest is we are coming into a supply zone as we get the close above the hourly 200ema so the potential of the turn in this range between 1.6184 and 1.6205 is there also. We will have to keep a close eye for manipulation candle patterns in this area during the Asian session. If they are nice then a stop run to those may be all we get during London today before a push down. We will have to wait and see.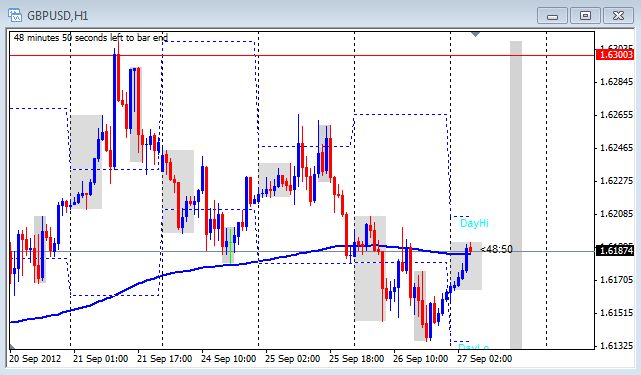 Forex News Today
Scheduled releases have stepped up a bit today starting with Unemployment figures from Germany. Expected to add 1k to the ranks of people who have lost their jobs after a dismal release last month. This obviously means that the turmoil in the EZ is hitting the core and I should point out that the 10yr bond auction they had yesterday did not go well. Offering 5billion and only getting bids for 3.95 billion. Not good. There is also M3 Money Supply from the EZ but since Draghi hasnt had the opportunity to fire up the presses as planned yet I doubt there will be much of a deviation here. The big one for the EZ will be the 10yr Italian bond auction. With Germany having a rough time and Spanish yields getting above 6% yesterday this seems that the Italian auction has a slim chance of doing well.
The UK has its Current Account figures and Final GDP coming today but i doubt there will be much deviation here either. Maybe an opportunity for some manipulation on a surprise but not much that I expect.
The US has a few notable ones with Core Durable Goods Orders and Unemployment Claims coming out at the same time with Durable Goods, Final GDP and Pending Home sales a bit later. Durable goods has the biggest chance to disappoint with New Home sales disappointing yesterday. Unemployment could be a chance for manipulation but considering Bernanke is already all in I think it would take a large deviation to bring on expectations of expanding QE3 to higher figures. I doubt GDP will deviate by much and Pending Home sales is expected to drop significantly into negative territory so that should be close.
Is It Beginning?
As I mentioned in not so many words in the September 26 forex commentary. I didnt expect the German bond auction to disappoint but if it did there will be signs of the markets seeing that they could be in more trouble than they thought. Well it happened and the potential for a bigger slide in Europe is gaining momentum. 
The wild card here is Spain. as I have said before Spain is avoiding asking for the bail out until most likely it will be too late for much to be gained with it as we find out that they have been lying about just how bad off they are. I have my doubts that once the Troika gets done crawling up their financial butt they find anything positive to speak about and it will another Greek tragedy except on a much more massive scale. I should also point out that Greece is still no where close to fixed and having an economy 10 times the size jump into the Greek tragedy pool will make a wake looks more like a Tsunami than just a small splash. 
So what will be the trigger that gets Spain on the bail out train? My guess is when yields get above and stay above 7% for at least 2 weeks or more. I feel they have a large incentive to keep anybody from finding out just how cooked their books are which is why they have been avoiding it like the plague. What will most likely happen as yields rise is they will start releasing rumors that they are ready to seek the bailout and yields will drop and they will ride the rumor mill buss for as long as they can. Possibly even months. We could be in for some choppy markets ahead. Watch for the tape bombs guys.
Happy Trading
Chad
 Forex Course & Lifetime Forum Access – Lifetime Membership to the Forex Bank Trading Course, Forex Forum, Nightly Video Training, Live Weekly Training session, and Lifetime Member Support– Click Here For More Information
Do You Enjoy The Daily Forex Commentary? Please Click The Like Buttons  & Tweet It !!