Forex Trading Strategy – Day Trading Confirmation Entry GBP/USD 13/05/2011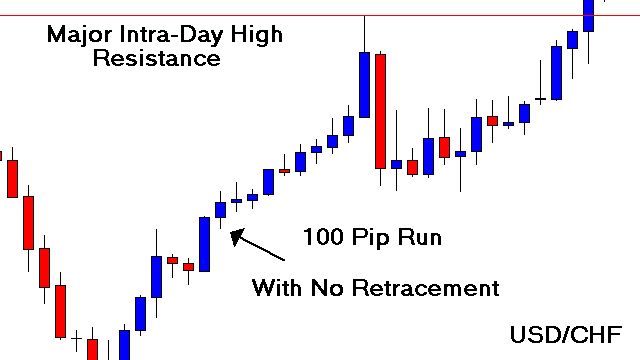 The first day trading setup of the day was one that doesn't occur very frequently. Additionally I do not have a forex trading article that covers this setup as of yet. Over the weekend I will try to quantify a set of rules for this specific trade setup and create a forex training article. Essentially this setup is based on a very high risk reward. In addition to that you must see the market running 50 pips or more with no retracement, into a major intra-day support or resistance. This is exactly what we had on the USD/CHF.
During the London session the market started to move towards USD strength in the USD/CHF and ran 100 pip with almost zero retracement into the previous days overall high. With this trade setup we took the entry when the market touched the resistance. This is one of the rare occasions that I do not wait for a confirmation candle. Doing so insures that you have an extremely high risk/reward day trade setup, and that is the huge advantage to this trade.
The USD/CHF did exactly what we were looking for. It touched the resistance and bounced immediately back down. The great part about this setup is that even if it eventually is going to move through the resistance or support it will give you at least one bounce off of it which allows enough time to at the very worst have a break even trade. Overall on this trade we managed +30 pips.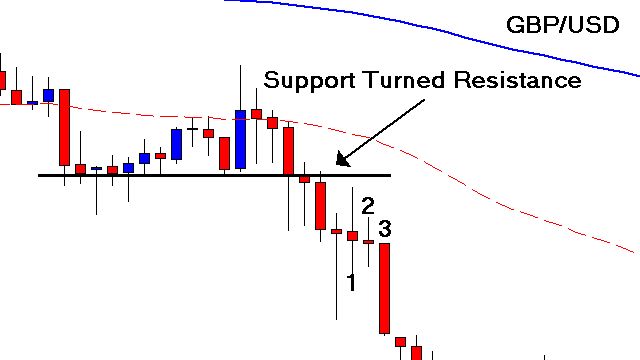 The was a standard breakout continuation day trading strategy setup. Notice how the market came into the black line and held it as support. Three hours later the market finally worked through this support and then, as it very often does, the support turned into resistance once it was broken.
Candle #1 came back into this previous support and closed below it which gave us a nice reversal candle. In a short setup, candle number two must close below the body of the reversal candle (candle #1). As you can see candle #2 did close below the body of the reversal candle just slightly, and this gave us what we call the confirmation candle. Those candles told us the GBP/USD was going to be making a further move down. As always the third candle is where the entry is triggered. Because the confirmation candle did not close far below the body of the reversal candle we did not have to wait for much of a pull back. Fortunately we entered when the third candle opened because it did not give a pull back at all.
We left a bit on the table with this trade but still took +30 pips overall on this one. Overall for the day we closed out with a +60 pip gain. This was a rather tough week of price action but we kept grinding and it paid off on Friday. I hope trading went well for everyone, and I will see you all Monday!