Forex Volume Based Trend Reversal EUR/USD 04/08/2011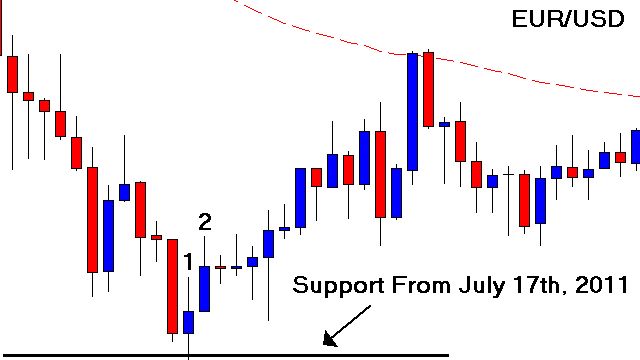 Thursday we had a bit of a slow day in the forex room because Trichet was speaking. Normally anything worth saying will be mentioned during the first part of the ECB Press Conference, and quite frankly nothing worth noting, and more importantly, nothing worth trading was said IMO. While there were many insignificant positive and negative comments made, nothing that would concretely move the market was mentioned. That being said we had to wait a while for a day trading opportunity to come together.
As the speech began the EUR/USD began to chop around and then drop fairly decisively. Along the way we noted support levels that could potentially turn the market. One after another the market worked through those support levels without giving a signal of reversal or retracement. Fortunately volume based entries filter out the vast majority of "fake" reversals, therefore keeping us safe. Sometimes it's not about how much you make, and more about how much you don't lose. With as crazy as the markets have been I think many investors would wholeheartedly agree with me. Keeping that idea in mind we always do our best to never force a trade, but rather let the trades come to us without forcing what isn't there.
That being said we finally had a day trade come together. The EUR/USD fell into some support around the 1.4110 area and then gave a volume based entry to go long. With our proprietary forex trading strategy we look for 2 specific candle and volume criteria to be meet in succession. Candle #1 gives an indication that the buyers were finally coming back in the market, and the second candle/volume combination tells us the sellers are stepping out of the way and letting the buyers have it for the time being. If you notice this was the one reversal on the move down that day that had a good run. Volume when used correctly provides highly accurate entries.
One of my favorite quotes goes like this…."Often the difference between a successful person and a failure is not one has better abilities or ideas, but the courage that one has to bet on one's ideas, to take a calculated risk – and to act". This saying never rings as true as in forex trading. People know the potential rewards of becoming a successful forex trader but are to afraid to act. I hope to see you in the training room!
Forex Course & Lifetime Forum Access

 – Lifetime Membership to the Forex Bank Trading Course, Forex Forum, Nightly Video Training, Live Weekly Training session, and Lifetime Member Support at a special March Discount – Click Here For More Information