Forex Volume Day Trade – GBP/USD 15/08/2011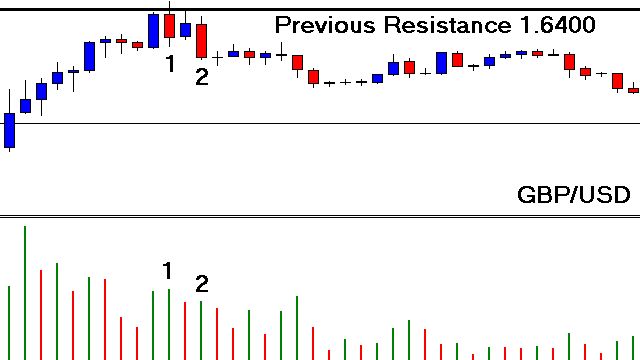 Coming into the forex room today both the EUR/USD and the GBP/USD had run 50 + pips. If you follow this trading blog you know a market that is already extended makes for difficult trading. It makes it hard to take a continuation trade because the potential for a retracement becomes higher the longer it runs, and it becomes risky to take a retracement trade because the trend is clearly strong. Personally, and what I recommend in the day trading room is to wait for one of two scenarios. First, you can wait for a large retracement of the move and then a continuation trade, or you can wait for the market to come into MAJOR support or resistance depending on the direction of the trend.
In this case we waited for the market to come into major resistance since it was trending to the upside. On the GBP/USD this level happened to be a psychological round number of 1.6400 which was also a previous major resistance point from the 9th of August. When it came into this level we looked for our standard tick volume trade setup to come together, and it did.
Our volume based entry is a 2 candle entry. Normally we like to see those candles right next to each other but in this case there was a candle in between  The first candle in the setup is a higher than average volume candle. Simply put once the market reached the resistance we were looking for the candle that touched it to be a higher than average volume candle. If you look back on your charts you will see candle #1 meet that criteria. Once that candle closed we then measure it from high to low, and this is called its spread. Candle #1 had a spread of 15 pips.
Therefore the second candle needs to move as far or further than candle #1 and it needs to do so on less volume. Candle number two moved 15 pips as well, and it did so on clearly less volume. Additionally it closed below its 75% mark which fulfilled the criteria for the second candle in this forex day trading system. The entry was taken once candle #2 closed, and our fill price was 1.6390. We have now closed half of this trade for +30 pips, and the stop loss on the last half should be moved to break even per the order we had set once we left the trading room this morning. The second half of the trade will be adjusted during the New York session if it is still running.