Forex Volume Day Trading Entry GBP/USD 24/08/2011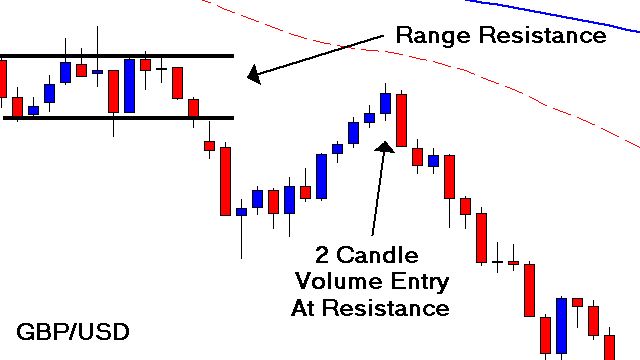 The GBP/USD was already trending down slightly when coming into the trading room Tuesday. There was a small range that the market stayed in for close to an hour before finally breaking down. Normally those resistance channels, once broken…become resistance if they break to the downside. If it were to have broken up we would have looked for that range to provide support on a re-test of it. This is the same basic principal of a breakout continuation level. For more information on that you can read the article that covers those type of support and resistance levels
Knowing this area would more than likely provide some resistance we waited for the market to reach this level and give us a volume based setup. Forex volume gives the final confirmation that the support or resistance is going to hold, in this case resistance. The day trading strategy using volume requires 2 candles to point towards a change in direction. Once the market reached that resistance point our forex trading strategy criteria was fufiled and we took a volume based day trade short. We took +15 pips on the first half and +40 pips on the last half for a total of a little over +25 pips.
For more information on the forex trading strategy used in this day trading setup check out the article that goes over our forex volume strategy. Trading has been rough out there. With increased volatility, larger swings, and abrupt moves trading has becoming increasingly difficult. While you may not make money every week, it's important to stay focused and stay disciplined.
Forex trading can be a very boring job when you go it alone. If you would like to come trade with others, and more importantly learn how to trade forex. Check out our course and forum. You will receive a quality forex education and learn how the banks day trade. I hope to see you all there!