GBP/JPY Forex Day Trading Confirmation Entry 04/04/2011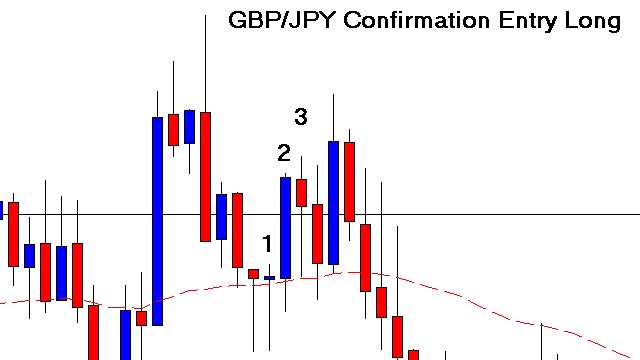 Today in the forex trading room we had a nice setup on the GBP/JPY to go long. This setup came together at about 8:45 AM EST I believe. Additionally at the same time the EUR/JPY was giving a similar setup which gave me a little more confidence in the move overall.
At candle #1 the market came down to the support level that had been holding the price up since the Sunday open, and then formed a nice reversal candle which meet the first criteria for a confirmation entry day trade setup. Next candle #2 meet the criteria for a confirmation candle by closing above the body of the reversal candle. Finally candle #3 gave us the pullback into the body of the reversal candle (candle #1) at which point we took the entry long.
After what seemed like forever watching this trade develop it just couldn't manage to break through the previous resistance level from a few hours prior. The market gave up +15 pips or so but then started to turn. After seeing a few bearish candles close I exited this trade for -10 pips. Overall a decent trade, I just got a little to greedy with it….lesson learned.