GBP/USD Day Trading Entries 10/08/2011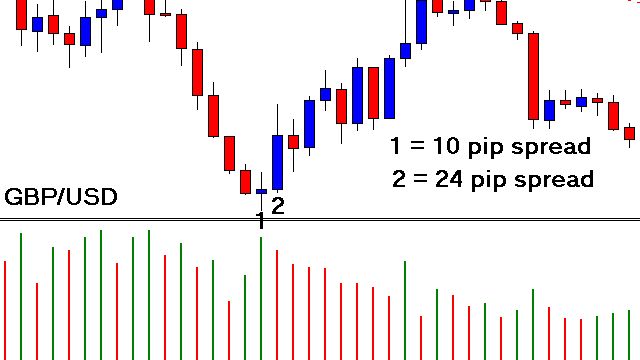 Hey everyone. I hope trading is going well for everybody! Before we jump into the chart above from Wednesday let me just say that we ended the day -13 pips down on Tuesday. We were short the GBP/USD Tuesday before the huge 200 pip drop but it stopped that day trade out at break even by a few pip right before tanking. That's the way it goes sometimes, anyway on to Wednesday.
Wednesday we had 2 nice day trading opportunities on the GBP/USD. The first of which I did not show in the chart. The first trade we went short at 1.6245 and closed half of the trade for +20 and the other half was closed for +40 pips, making it a +30 pip trade overall. After that nice little short setup we then came into support. Once reaching any support or resistance point we then look for the first criteria in our volume based forex strategy which is an above average volume candle at support or resistance, in this case support. As you can see if you look back at your charts from Wednesday candle number one was clearly an above average volume candle. Once that candle closed we then measured it's spread, which is the distance from high to low. Candle number ones spread was 10 pips.
A high volume candle at support or resistance is the first indication that the market may turn. The increase in volume shows clearly that this was the point where buyers were coming back into the forex market. This however is not enough information to trade from. Therefore after this higher than average volume candle we then look for an up candle to move up as far or further than the first, but yet do so on less volume. Candle number two moved 24 pips high to low and did so on clearly less volume. What does this mean?
The first candle showed a battle between buyers and sellers when it had above average volume at support. The only way the second candle could move 2.5 times as far as the first candle on LESS volume is if there was no battle between buyers and sellers. Simply put the buying would have to be what we call unimpeded buying which would allow the market to move two and a half times as far on less volume. Once that low volume up candle gave us this we went long on its close. We closed half of this trade for +15 pips and the other half got closed at break even. Unfortunately, and AGAIN, the market closed the second half by a few tenths of a pip before hitting the second take profit. Either way still a nice profitable day trade.
For more information on our forex volume day trading strategy check out the forex training article entitled, Forex Day Trading Strategy – Day Trading Forex Volume. Â Enjoy, and until next time happy trading!
Forex Course & Lifetime Forum Access

 – Lifetime Membership to the Forex Bank Trading Course, Forex Forum, Nightly Video Training, Live Weekly Training session, and Lifetime Member Support at a special March Discount – Click Here For More Information