GBP/USD Finally Shows Some Life – 1/22/16 Forex Market Analysis
EUR/USD Tanks On Draghi Comments
The EUR/USD ended the day very mixed. Overall the market was very tame ahead of the 8:30 AM Eastern news. When Draghi eluded to further bearish ECB action the market responded with an immediate sell off. Surprisingly we made a complete retrace of the initial sell off and therefore future directional bias is questionable. At this point I will continue with the open directional bias. For today I have one lower and two upper manipulation points I would take a valid stop run from.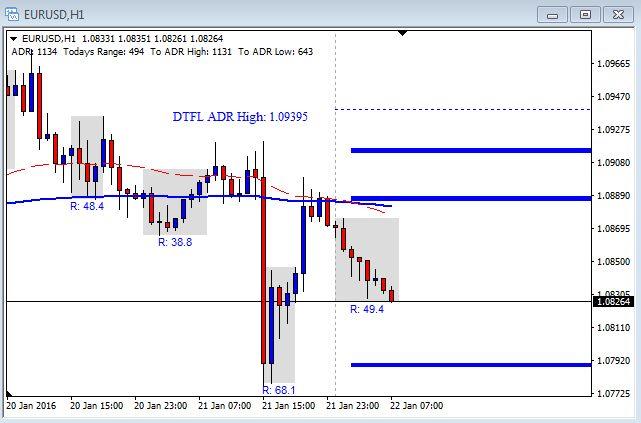 Pound Shows Signs Of Life
I think this is about the first aggressive move to the upside we have seen from the GBP/USD is close to a month. Today's move satisfies the criteria for a first push to the upside as described in our forex course. When we have a directionally based market we only look to trade in the direction of the cycle. It is critical to understand that regardless of cycle, we still need to see a valid stop run of a pre-selected manipulation point to trigger a day trade. The main issue we have for today is the lack of lower manipulation points from which we could consider a stop run reversal to go long. At this point I have one lower level from which I would take a stop run long but we do have quite a bit of open territory for a new level to form. For those of you who are members of DTFL be sure to watch tonight's video daily market preview as I discuss the possibility of a newly created level and how that might look.
Want to learn the bank trading strategy, join our live training room, access live member chat, as well as lifetime support? Join Us Here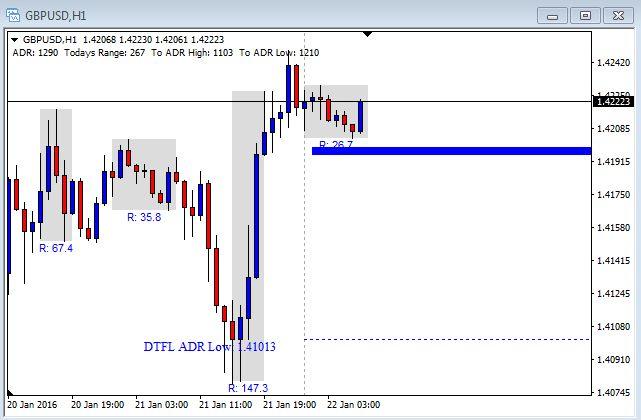 Forex News For January 22nd 2016
German Manufacturing PMI m/m 3:30 AM Eastern: This is not known as a big market mover but it is capable of creating a 15+ pip spike and therefore I would not carry a Euro trade into it. This month 53 is the expected number.
UK Retail Sales m/m 4:30 AM Eastern: Historically UK Retail Sales not only provided a very sizeable spike but it also provided very consistent follow through after the spike that was reliable. The last 3 releases we have seen the market completely reject the news and push back through pre-release in the opposite direction of the release. For this month Retail Sales w/gas is expected at -.1%
US Existing Home Sales m/m 10:00 AM Eastern: This piece of economic data is right on the edge of being a news item I would not carry a trade into. More than likely I would carry a trade going into this release. As long as I was sitting at break even or better on the EUR/USD or GBP/USD I would have no problem holding into this release. If you trade the USD/JPY then you have a higher probability of a larger spike. The larger spike about 6 months ago was supported by other data that was released at the same time and therefore I think it alters the actual response to this news and made it look larger than it actually would have been. For this month 5.21 is the expected number.
-Sterling