GBP/USD Gaps Down After Stop Run – FX Daily Analysis 2/22/16
EUR/USD Has Stop Run Of Lows But Holds Range
One of my favorite stop run setups, are those that occur after news. Friday was a great example of that with US CPI. CPI came out slightly better than expected which caused the initial spike down in the EUR/USD. The EUR/USD then reversed back to the upside which was a reversal of the move created by the data. This proves to be a massive trap for unsuspecting retail forex traders who chase the initial move. As the prices surges the opposite direction it is often more aggressive than the initial move, as traders are forced to chase the price for an exit. There are two major issues with this type of trade setup. First, it needs to create a valid stop run….and here is the key….a valid stop run of a PRE-SELECTED manipulation point. This type of reversal move means nothing if we didn't choose the level in advance. This was illustrated in the latest video titled One Simple Forex Trade Setup – 178% Compounded Account Growth. The second issue with this type of trade setup is that we very often will not see enough pullback after getting the confirmation candle. This leaves us with a valid trade setup but no way to enter the market as the lack of pullback doesn't allow for the proper reward to risk ratio trade setup.
It is only fair to mention that the last time we had this type of setup was on UK Retail Sales last month and the trade resulted in a loss. I mention this to clarify that I'm not calling this an infallible setup. Lets imagine that this type of setup only managed a 50/50 win/loss ratio with a 2 to 1 reward to risk ratio…would you not take that setup every single time?? If you answered no then I would highly recommend closing this page out and learning some basic arrhythmic:) That is the type of math that fortunes are made with. Retail traders struggle because they chase win/loss ratios blindly. Successful traders chase trading strategies that produces 2 to 1 reward to risk ratios or better as that is the key to becoming a successful trader. Ok enough rambling…on to today's market analysis.
The EUR/USD is still pretty much identical to what we had Friday. Our first lower level remains in play as we never set a new candle body low. If we do break out lower level that would be a great location for a backside short as there is nothing to stop further downside price action. Upper level are however quite limited. We have a bunch of staggered highs which makes it far more difficult to be certain of where the liquidity will be located. As you can see I have two upper level from which I would consider a stop run short. It is also important to note that if we were to break above the first upper level I would consider a backside long from that point as well.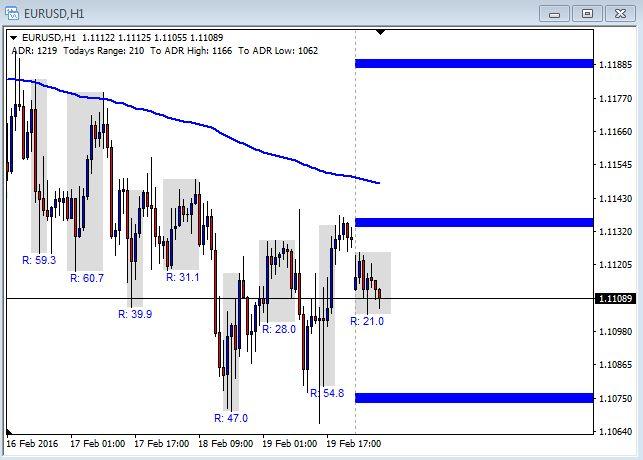 Upper Stop Run Before Weekend Gap Down
Like most days I remain unbiased directionally. I get asked why I go into most days with an open directional bias and the answer is rather simple. We have very specific rules for what we classify as a 'market cycle'. If that criteria is not satisfied then our rules state we should trade with an open bias. The reason directional bias is irrelevant the majority of the time, is because our entries come from a valid stop run of a pre-selected manipulation point regardless of directional bias. Even if cycle is perfectly clear and I have a directional bias, I still need to see a stop run and confirmation from one of our manipulation points to take an entry. 
For today, I would like to use the current Asian highs which are around the 1.4300 level. This level has not quite satisfied the rules for a new manipulation point as of yet. If we were to push down to last weeks lows that level would become my first upper manipulation point. If however, we break above it before that occurs then it gets thrown out. Above that level, we are really left with nothing. The gap down leaves us with very little information as to where the liquidity might be and therefore we are forced to go to Friday's highs around 1.4400 as the final upper manipulation point we would consider a trade from. At this time we also have two lower levels as you can see listed on the chart below.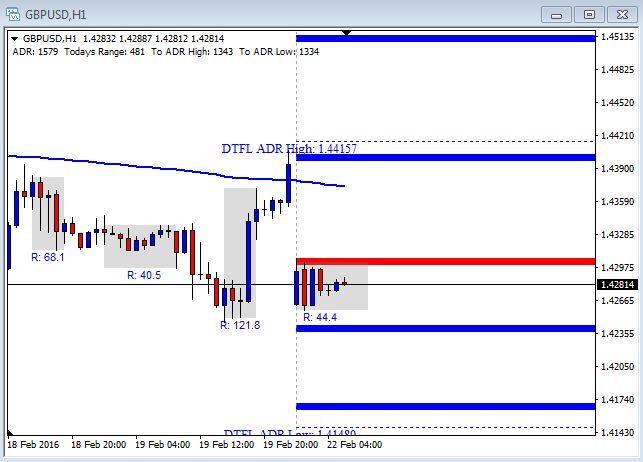 Forex Market News For February 22nd 2016
German Manufacturing PMI 3:30 AM Eastern: This is very very unlikely to create a 15+ pip spike but we do have one occurrence in the last 6 months. I wouldn't mind taking trades up to an hour ahead of this news but I would still be closing ahead of the release especially if you are not +10 or better as a general reference. For this month the expected release is 51.9
-Sterling