GBP/USD Tumbles On Flat CPI – September 16th 2015 Fx Market Analysis
Before we get into today currency analysis I thought I would mention the current situation in the gold market. As I mentioned earlier this week, physical gold holdings as compared to paper gold eligible to be received has reached a all time low in the history of the Comex. There are now 252 deliverable ounces of gold for every 1 ounce of physical gold actually on hand. I'm not saying they are going to default on deliverable gold and I don't think that it will happen but this is concerning. It is possible…I believe anything is possible but the likelihood of them allowing that to happen is extremely low. Central banks try to suppress the price of gold at all costs and they know that allowing anyone to fail a delivery would send the price of gold skyrocketing and everyone went to buy physical. I highly doubt they want that and therefore I don't think they will allow it to happen. It does however give yet another reason to why you should own some physical gold and silver. The bottom line is smart money is taking physical delivery of gold at an alarming rate that has never happened before. Nothing preserves wealth like gold and silver and trusting in nothing but paper is simply crazy. Here is a great article on ZeroHedge that covers this topic in greater depth, Comexodus: JPMorgan's Vault Is One Withdrawal Away From Running Out Of Deliverable Gold.
EUR/USD Gives Second Push Down
The EUR/USD has given a second push to the downside with both moves being quite shallow. If you look at a daily chart we had a nice stop run above the last short term daily high with further continuation down being the highest probability in my opinion. In order for further downside to take place we need to break 1.1255 for this to occur. Today's move down did provide a nice stop run short for those that got a deep enough break. For those of you who are members make sure to check out the daily video preview for a full break down of that trade setup.
While I do favor the push down it is important to keep in mind that the size of today's move down does not qualify as a valid push and therefore I will still keep trade direction open based off of any valid stop run from a pre-selected manipulation point.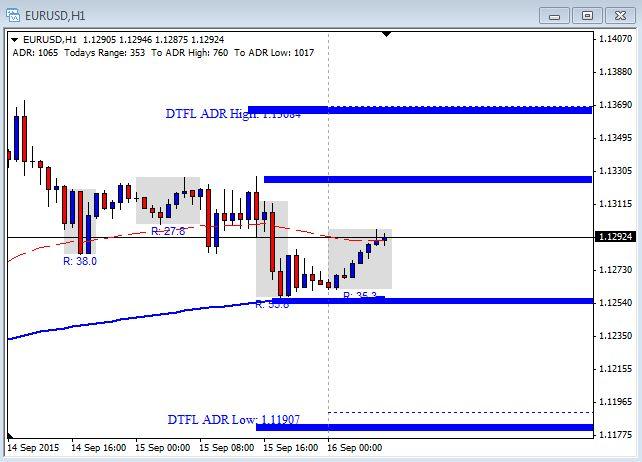 CPI Causes More Downside On The GBP/USD
The Pound has likely given the second push to the downside. As I discussed in today's daily video preview it really doesn't matter whether today is the first push down or the second push down in regards to our cycle criteria. The reason it doesn't matter is because in either scenario we would look for a continued push down today. If we get the push down today then exactly where we are in the cycle will matter for Thursday and we will cross that bridge when we get there.
The Pound was quite close to providing a valid stop run but it provided two candles that opened and closed above the first upper manipulation point thus invalidating the level, and therefore the trade as well. Although I called the Pound perfectly in Monday's forex market analysis, I must admit I have not profited from the move. Hopefully we will get a shot at the continued push down today. I only have one upper manipulation point from which I would look to go short. Any other level would have to be a newly created level. We also have the option of a backside of the level trade if we breakout to the downside. Again, for those of you who are members be sure to watch today's video preview as I walk through these possibilities in great detail and exactly what I want to see for a new level to be valid.

Forex News For September 17th 2015
UK Claimant Count Change & Average Earnings Including Bonus 4:30 AM Eastern: These two news items have changed over the last 6 months. While Claimant Count Change is still important, Average Earnings has been the true market driver. When the two numbers conflict by an average deviation the market will follow Average Earnings. Claimant Count Change is expected at -5k and Average Earnings is expected at 2.5%.
One interesting point we have seen with Claimant Count Change over the last 6 months is a clear trend towards less people getting off unemployment benefits. Remember a negative number is good and a positive number is bad. Essentially this number is the amount of people that are coming off or coming on employment benefits. Since late 2013 there has been a steady reduction in the amount of people getting benefits. For the first time in a year and a half we have a clear trend towards more people getting on unemployment which is obviously a bad sign. A big miss on this number could really crush the Pound, especially if Average Earnings deviates in the same direction. Because the Pound has been so heavy if both pieces of data are just slightly better than expected I would expect the spike up to be sold into and a reversal back down to occur which would provide a high reward to risk opportunity to get short the GBP/USD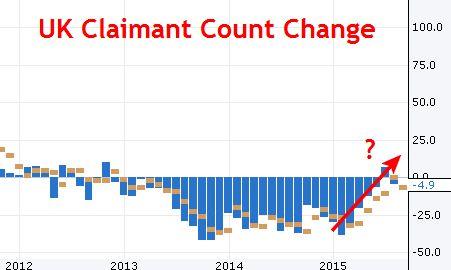 US CPI 8:30 AM Eastern: With the interest rate decision coming up on Thursday CPI could get a bigger move than we have seen lately. Last month CPI was .1 worse than expected which caused both the EUR/USD and GBP/USD to spike up around 40 pips and then it completely retraced the spike and went back the other way 80 pips. The bottom line is we had a lot of volatility and I would expect the same this month and I would not trust the first initial move as it has a high probability of being reversed at least in the short term. Core CPI is expected at .1% and the CPI is expected at -.1% this month.
-Sterling
Want to learn the bank trading strategy, join our weekly live training room, talk to members in our forum, and have access to lifetime support? Learn more by clicking here.