Is Long Term USD Strength Likely? November 20th 2015 FX Analysis
I just finished reading an interesting article that talked about Goldman's top 6 trades for the year of 2016. Top of the list was a US Dollar long vs the Euro or Yen. Historically US equities have fallen during times when the USD has seen this much strength but we don't have the same market dynamic to show true risk aversion. As a result I don't think the same risk applies to US Equities. That doesn't mean downside isn't possible because I obviously feel like it is, it just means the catalyst for Dollar strength isn't risk aversion at this point. What that also means is continued downside in precious metals through the 2016 year remains possible and thus why I will continue to remain on the sidelines as we wait for lower prices to begin buying physical.
Continued Push Up In EUR/USD
Today, the Euro produced a nice stop run short from our deepest upper manipulation point. Unfortunately we didn't see a great deal of momentum in the following push to the downside. Overall the trade was closed manually for right around +20 using one of our mechanical trade management rules.
Especially as you go to the larger time frames, the 200 EMA becomes a better and better indication of whether or not the current directional bias is holding or beginning to break. At this point we are testing that 200 EMA barrier on the 1H and at this point it continues to reject any attempt to remain above it. One main reason I will keep directional bias open today is because of the way this cycle started. I would be happy to call today a second push up but the first push occurred, for the most part, during the Asian session. Because the start of the move was outside of the our standard hours it means I won't trade the rest of the cycle. If the start had been a normal first push during normal hours then I wouldn't mind a second push occur partially during Asian trading hours. That's not really a problem, it just means I will continue to keep the directional bias open.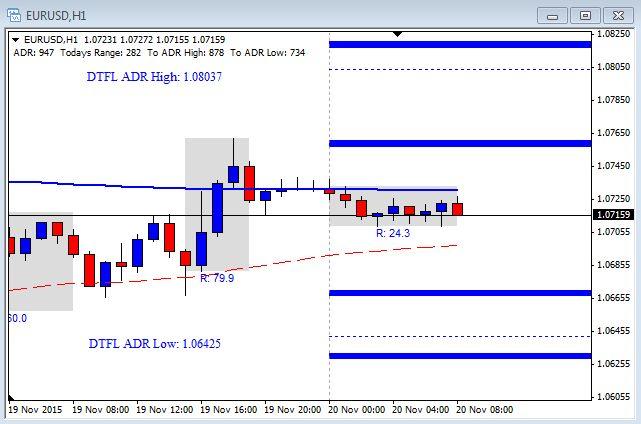 GBP/USD Surges Past Daily Resistance
The GBP/USD also had a very nice stop run of an upper manipulation point. If you read yesterday's market commentary then you might be thinking "we didn't have a listed upper manipulation point yesterday". Although we did not have an upper point to start the day, we did have a new level form during the day which is where the day trade setup short occurred from. This trade resulted in a -20 pip loss as the market made one last deeper push to the upside.
The Pound is pretty much identical to my EUR/USD analysis. Because the first push was not created during the hours we detail in our forex training course, the ensuing cycle cannot be valid. That isn't much of a concern for us as we trade most days without a directional bias and today will not be any different. If the first push had been during standard hours then we would have a second push up and we would only be looking for the third push to the upside. The same would be true for the EUR/USD as well.
I'm actually more comfortable keeping the directional bias open right now as I just have a strange feeling that this move isn't quite as strong as it looks. Today we have one upper and two lower manipulation points as seen in the chart.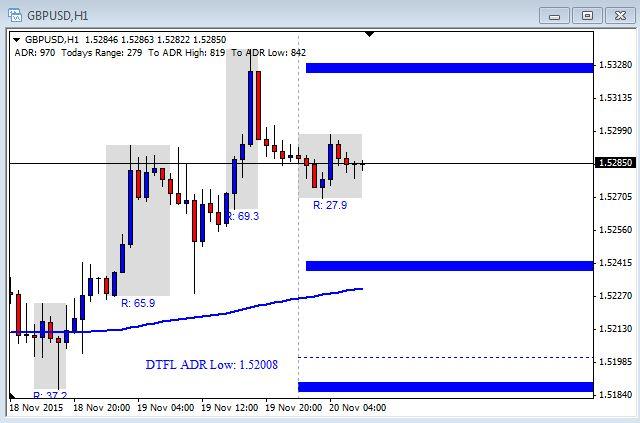 Forex News For November 20th 2015
ECB Draghi Speaks 3:00 AM Eastern: More than likely this will be very low impact as its not a major speech. With that being said I would turn on the news if you have access through your squawk based news as we did have more movement than expected a few weeks ago on a speech.
-Sterling
Want to learn the bank trading strategy, join our weekly live training room, talk to members in our forum, and have access to lifetime support? Learn more here