Learning To Day Trade With Smart Money GBP/USD Short 10/20/2011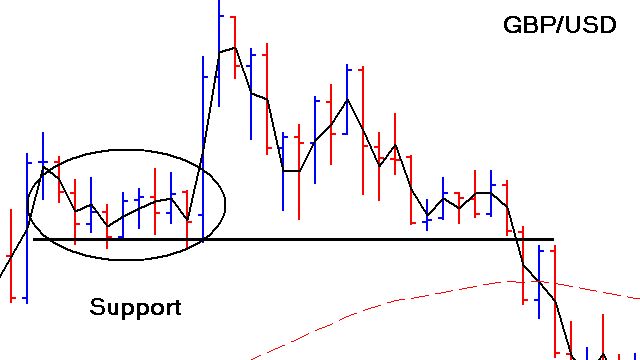 Hey! I hope trading is going well for everyone. We've seen some nice moves the past few days and I thought I would cover something rather important in this recent trade update that I've never really touched on before. This is a bit longer than usual but I can promise you that this information and the information to come is some of the most important I have ever put out! Over the last few weeks in the forex room I have really been stressing the need when day trading forex to not focus on only one specific "thing", but rather the need to focus on the overall picture of the market. Being able to decipher this overall picture is without a doubt a day traders key to success. Let's break down this trade.
This is something I feel the vast majority of traders do….that is they completely neglect what consolidation really is. You see, retail traders are told from the very beginning that consolidation is very simply the market not picking a direction. That would be nice if it were true but for the most part its not! Then what is consolidation? More often than not CONSOLIDATION IS ACCUMULATION! I will break this down in extreme depth sometime this week or early next so for now just assume I'm right and stay tuned for the further info. An example of what someone might term as consolidation is circled above.
Who Is Accumulating
Have you ever noticed that following times of consolidation are some of the largest moves? Have you ever noticed that at the end of the consolidation it will often make a quick "stop hunt" type move and then take off in the opposite direction? If you haven't begin to look at this. Without a doubt this is one of the largest fallacies in the forex market. Who moves enough money to have to accumulate orders over time? You and I can simply press buy or sell and the market doesn't even know we entered, but who could be big enough to HAVE to enter the market gradually overtime through accumulation times like this?
Simply put smart money (SM). In reference to this article we will define SM as banks, funds, large institution, ect. Therefore if these are the times when smart money is coming in the market shouldn't this be the single most important time you want to pay attention to? If this is where they are entering the market, and we can learn to read weather it was accumulation of buy or sell orders then we can simply piggy back on the ensuing move they create! That is HUGE!!! Smart money is never wrong…plain and simple banks don't lost. There is no other information more powerful than learning when and where SM is entering the market period!
Trading With Smart Money
Ok, moving on. How do we determine weather the accumulation was buys or sells. As I said before during this accumulation period you do not know weather buy or sell orders are being accumulated, however we can determine this as the market begins to move and this profit from it. One clear way is when there is a fake out after this accumulation period. For example notice the 2 very aggressive bullish bars after the circle. At first we thought this was showing that the accumulation was that of buy orders but then look at the ensuing price action. If the accumulation in the circle was in fact buy orders then why did the market set a lower high on the second test up, and then a third lower high, and finally a forth? If SM had accumulated by orders the price more than likely would have spiked up as it did, pulled back to the accumulation as it did, but then it would have clearly went off to the upside setting higher highs.
Therefore what was the test higher? Think about this….if they were accumulating sell orders during the period market by the circle then clearly they wanted to move the market down. Remember that for every seller in the market there has to be someone to buy it from them. Therefore by running and allowing the price to run up a bit this creates further belief in the upside and thus buy orders. Therefore SM is essentially getting people to buy so that they can sell it to them, thus allowing SM to create an even larger position short and at a great price!
Today's Forex Trade
We took this setup short on the GBP/USD from 1.5809 when it fulfilled our day trading system rules. The market then broke the support level a bit later thus confirming our belief down even further and more importantly confirming the accumulation was in fact sell orders. We closed half for +40 pips and I'm moving the stop loss on the last half to 1.5769 which locks in +40 pips on the last half as well. Right now the last half is up around +100 pips as of writing this. I want to lock in some profit but I would also like to give this some breathing room for a larger push to the downside. We shall see what happens and I will update the results of this one tomorrow. I think its also fair to point out that we took a -20 pip losing trade on the EUR/USD before getting into this day trade.
I know this "recent trade" update was a bit deep but I can promise you I will be clearing everything up with some further forex trading articles and forex day trading education videos. I might even start a series of videos and really dig deep into this subject. One thing that might help is to check out the article entitled Day Trading Stop Run Reversals In Forex. While the two strategies are separate the ideas within that article will help will some basic ideas we will discuss moving forward. Â This is not a "pattern" in the market. This is how smart money does business. If you can learn how they do business, learn how to identify it, and then learn how to jump on the moves they create you will have success! I will be sending this training out to the email list so if your not already on it go to the homepage and join the free forex newsletter! I hope the coming forex education helps. See you all soon, until then happy trading!
Forex Course & Lifetime Forum Access

 – Lifetime Membership to the Forex Bank Trading Course, Forex Forum, Nightly Video Training, Live Weekly Training session, and Lifetime Member Support at a special March Discount – Click Here For More Information