Major Intra-Day Support Day Trade USD/CHF 16/05/2011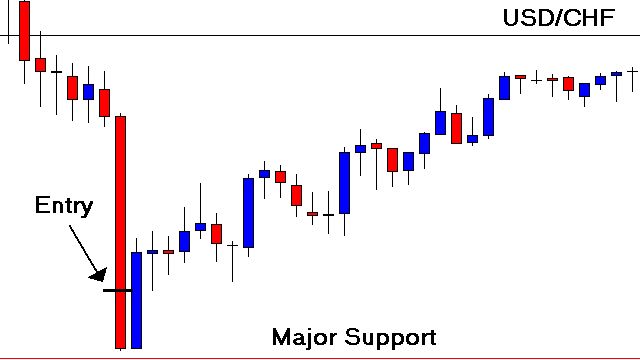 Going into today's NY session we had some very large moves. Seeing this price action prior to our session always makes for a tough day, and usually quite a boring day in the forex trading room. This was exactly the case with today's forex trading session…..boring. When the fx market has ran a large amount coming into the session you trade, there is higher risk to a continuation trade because the market is already extended. Additionally there is a higher risk to a retracement trade because it is fighting a clear trend with momentum. Because of this we normally become much more selective about any day trade setup that occurs. Anyway….on to today's trades!
The chart above shows the USD/CHF. As I mentioned before the market had been making a large move coming into our day trading session towards USD weakness. The USD/CHF ran 140 pips with almost zero retracement into Friday's low. This is a setup we have seen a few times over the last few weeks, with last Friday being the most recent. There are two major requirements for this type of day trading setup.
1.) The market must have ran 75 pips or more with very little and preferably no retracement during the move. Any healthy trend will have retracements, and when there are no retracements within a move the probability of a reversal becomes much higher once the price reaches the next major resistance of support depending on the direction of the move.
2.) At the end of the large run the market must hit a major intra-day resistance of support level such as the previous day's low or high, or another VERY clear major S/R level.
If the criteria above is meet, the trade is taken when the support or resistance is touched (On this trade we took the entry roughly 8 pips before the overall lows in case it didn't quite touch the exact overall lows). Taking the entry when the price first touches the support or resistance gives you a much better risk/reward in addition to a tighter stop loss. This is exactly what we did when the market came down and touched the major support from last Friday. Our entry was .8811 and the stop loss is now set to break even. The final take profit on this position is .8871 which is a +60 pip take profit, and a 3/1 reward to risk. We shall see what happens with this, and I will update the final results for this trade tomorrow.
As I mentioned last Friday (or at least I think I mentioned it LOL) I will write a forex training article and do a video on this forex trading strategy. I'll have that done by Wednesday for you guys, and I'll send it out to the email list. If your not subscribed to that make sure you do, it's free! See you all tomorrow with the next update!